As many as 24 Chinese nationals have been arrested after police in northern Bac Ninh Province raided a series of arcades that were allegedly transformed into gambling dens.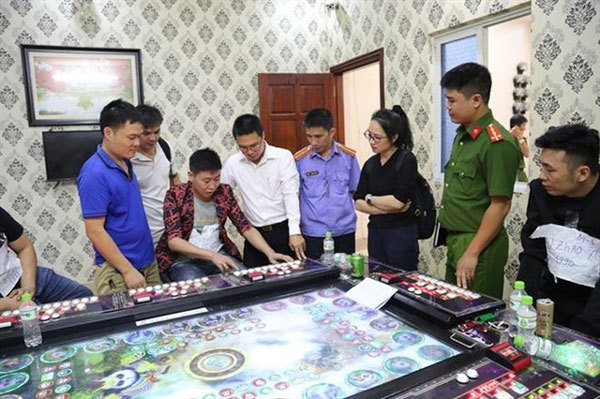 Police inspect an arcade on Ngoc Han Cong Chua Street in Bac Ninh City. — Photo cand.com.vn
The arcades were equipped with typical machines which were transformed into betting games.
Colonel Pham The Tung, director of the provincial Police Department, said the police raided five arcades, including three in Bac Ninh City, one in Thuan Thanh District and one in Tu Son Township on Monday.
The police seized a large amount of cash, including nearly VND250 million (US$10,750), 16,300 yuan ($2,300) and $540, as well as four game booths and 12 score cards from the centres.
Major Nguyen Dinh Hung, deputy head of the provincial Police Department's Criminal Police Office, said the arcades were illegally operated by a group of Vietnamese and Chinese people. The arcades mainly served Chinese gamblers.
The group was very organised. All of the centres were equipped with cameras. Those who were unfamiliar with the operators could not get in.
Gamblers were required to buy cards to record their scores before playing the machines. The points could be exchanged for cash.
The case is under further investigation.VNS