Weak regional connectivity across land, air and sea has hampered the growth of southeast region of Vietnam. Economists believe for the region develop, it needs to change its mind set and strategy.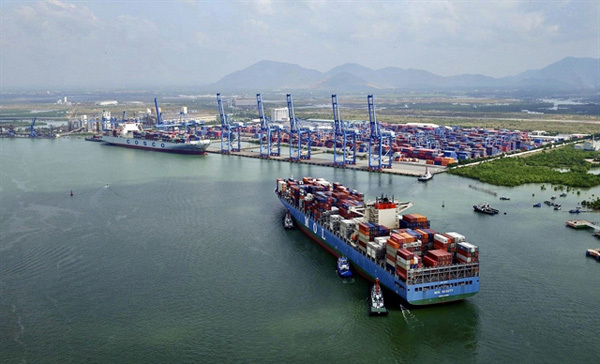 Tan Cang – Cai Mep Thi Vai Port in the southeastern province Ba Ria-Vung Tau. — Photo courtesy of the Ministry of Trade
Economist Tran Dinh Thien, member of the Economic Advisory Team of Prime Minister Nguyen Xuan Phuc, made the remarks during a conference on transport infrastructure connection in the region.
Comprising HCM City and six provinces of Ba Ria-Vung Tau, Dong Nai, Binh Duong, Binh Phuoc, Tay Ninh, and Binh Thuan, the area covers 31,300sq.km and has a population of 19.6 million.
Bordering the East Sea, the area is rich in resources and enjoys favourable climate conditions, making it the country's most economically developed region.
Thien said the Communist Party of Vietnam has paid significant attention to the development of the south-east region, especially HCM City, which has helped to maintain the region's lead in national GDP shares (50.8 per cent), State budget contributions, and other economic factors.
However, its 'driver of growth' status is under threat as the GDP growth in 2016-18 reached 6.72 per cent against the 9.08 per cent growth of the Northern Key Economic Zone, he remarked, attributing to weak connectivity between areas in the region, while ring roads and highways are insufficient or slow to implement.
If important projects like soon-to-be underway Long Thanh International airport in Dong Nai or the upgrading of Cai Mep-Thi Vai port suffer setbacks and delays, the impact would be felt on a national scale.
Thien stressed that transport is a "severe bottleneck" of the southeast region – the Southern Key Economic Zone only has 91km of highway (11 per cent of the country's total), Tan Son Nhat International Airport in HCM City is increasingly overloaded, and Cai Mep-Thi Vai sea terminal is currently operating over capacity while a synchronous system of roads and railways leading to and from the terminal is lacking.
He proposed the region receive a prioritised budget as well as "vanguard" development mechanisms to become a "modern locomotive" unleashing its full potential.
The vision of a synchronous development between air, road, rail and sea needing to be a well-oiled cooperation between the State and local administrations are not new ideas, but must be thoroughly implemented, Thien said.
He said he has floated the idea of direct monetary rewards for businesses that implement well infrastructure projects in the region based on the "benefits brought to the country" and its leadership.
In the northern region, the investment to infrastructure is mostly sourced from the State budget, but the benefits the southeast region can bring are still huge, mechanisms are needed to entice private businesses – especially encouraging Public-Private Partnership (PPP) model, according to Thien.
Nguyen Duc Kien, deputy chair of National Assembly's Economic Committee, said PM Phuc himself has noted the lack of connectivity in the region which lead to three trips to the area in a year, plus several other meetings and resolutions to boost the development here – especially repeatedly urging the completion of land clearance of Long Thanh International Airport project so that construction could start on time.
While experts at the conference agreed that localities have been proactive in seeking diverse investment sources for intra-provincial and inter-regional transport systems for development given the constrained State budget.
Binh Duong Province, for example, has called for capitals both inside and outside the province to invest in its infrastructure, becoming the first locality in the country to implement the build-operate-transfer (BOT) model in transport and achieve unexpected success.
Similar undertakings have also been done in Dong Nai, resulting in much "brighter picture" of transport in the province.
Kien, however, opined that the action plans of the localities in the region lack cohesion and coordination, and suffer from a clear "commander role."
Tran Hoang Ngan, Director of the Institute for Development Research of HCM City, also pointed out that the awareness of the benefits of transport infrastructure connectivity seems to be lacking, and are still limited to an individual province or city.
A shared database that the entire region can make use of has not been set up, and regional common infrastructure is not available due to the lack of appropriate mechanisms and consensus, Ngan said, adding that the interests between localities in the whole region have not been "harmonised".
He urged the Government to authorise local governments – especially HCM City, Binh Duong, Dong Nai, and Ba Ria-Vung Tau – to decide matters related to key projects in their jurisdiction.
Nguyen Danh Huy, Director of Department of Planning and Investment under the Ministry of Transport, stated the implementation of infrastructure projects in the region is "too slow."
There are 11 highways planned for the region, with a total length of 970km, Huy said.
According to the plan to 2020, 497km will be operational but currently only 122km have been put into use, while another 278km are still being built.
Airway-wise, by 2030, the southeast region will have three international airports – Tan Son Nhat, Long Thanh, and Con Dao – with total capacity of 103 million passengers a year, with Tan Son Nhat and Long Thanh shouldering about 50 million each.
The Ministry of Transport has submitted to the Government a proposed project on regional transport infrastructure connectivity for the southeast region worth VND54 trillion, which will require some deliberations as to the coordination between public and private sources for these estimated capital, Huy said. VNS

Minister of Planning and Investment Nguyen Chi Dung has urged localities in the south-east and Mekong Delta regions to develop transport infrastructure by diversifying the sources of and effectively using capital over the next five years.