School headmasters have been told they are responsible for student transportation and their safety when travelling to and from class.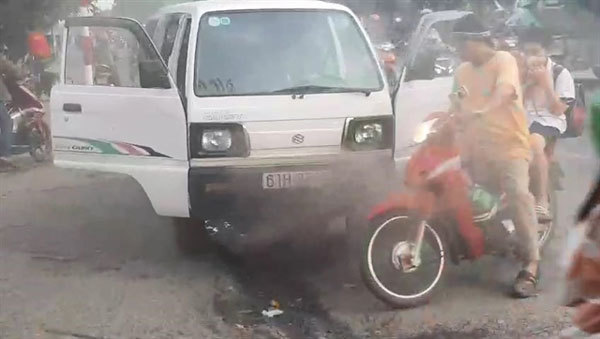 A school bus started smoking when taking students to Phú Primary School in Binh Duong Province on Wednesday. — Photo laodong.vn
The warning was issued by the Education and Training Department of Binh Duong Province after smoke was seen billowing out of a vehicle carrying 10 pupils to An Phu Primary School on Wednesday.
Although no one was injured, children on board panicked thinking their bus was on fire. An electric fault was the cause of the smoke.
Now all schools in the area have been told they must ensure transport services chosen for school runs must be carefully checked.
Both schools and drivers are required to seriously follow regulations on transporting students, the department said.
Additionally, parents must also co-operate with schools to ensure student safety.
In two separate incidents in the southern province of Dong Nai, five primary school children were thrown from moving vehicles.
In the first, three students from Phan Boi Chau Primary School were on their school bus, when the back door suddenly opened. The children suffered minor injuries.
A few days later, two children heading to Dien Hong Primary School also fell out on to the road. The driver was found using a fake licence and the vehicle had a registration that expired three years ago.
The local education sector has co-operated with police to further investigate the two cases and identify those responsible.— VNS

Tighter regulations are being planned on school buses, after one child died and another needed hospital treatment when they were left on board for hours unnoticed over the past two months.

Education departments around the country should instruct local schools to choose reputed and quality transport service companies to pick up and drop off their students, the Ministry of Education and Training has said.  

The authorities in Bien Hoa City, Dong Nai Province have asked Pham Boi Chau Primary School to explain an incident where several pupils fell off a school bus while it was turning a street corner.