Le Nguyen Cong Huy lost his father when he was just three years old.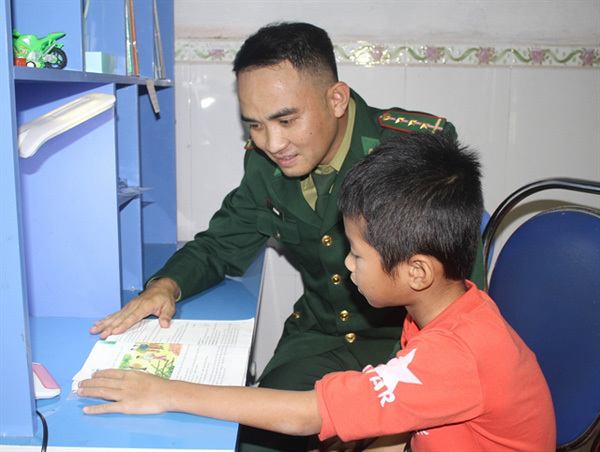 Lieutenant Vu Hai Ninh, an officer of Kim Son Border Guard in the northern Ninh Binh Province helps Le Nguyen Cong Huy with his studies. Huy is among seven children fostered by the local border soldiers in the hope they will have better lives.
Three years later his mother became sick and never recovered from her illness leaving Huy to live with his aunt.
On the first days going to school, Huy told his aunt that he wanted to be accompanied by his parents just like other classmates.
"He was sad and had low self-esteem during the first days to school. I didn't know what to do but encouraged him to study hard," Le Thi Phuong, Huy's aunt, said.
"I really felt sorry for him."
But the life of Huy has changed since he was adopted by Lieutenant Vu Hai Ninh, an officer of Kim Son Border Guard in the northern Ninh Binh Province in 2019.
Ninh came to Huy's house every night to help him study. The soldier spends time playing with him and talking to him about the life in the military.
Thanks to Ninh's help and love, Huy has excelled at school. 
"Dad Ninh told me that if I studied hard and made progress, I would be rewarded one day visit to the Border Guard's station," Huy said.
"I wish I would become a soldier like Dad Ninh when I grow up," he said.
Phuong, Huy's aunt, said he had become much happier and gained confidence since Ninh came into his life.
Huy is among seven children the Border Guard Station in Kim Son District has adopted and fostered to help them have better lives and can go to school like others in the locality.
The model of adopting and fostering orphans and disadvantaged children of the Border Guard Station has been implemented in poor communes in Kim Son District since October, 2019. Each month, the soldiers voluntarily contribute part of their salaries to help these children with food and continue their studies.   
They spend time everyday visiting the children, talking to them about life, the spirit of soldiers, and good examples of those who overcome difficulties to make their dreams come true. These stories have inspired the children and made them stronger in life.
"I feel sympathy for those living with difficulties, especially children. I love them like my own child and want to teach them to be a good person," Lieutenant Ninh said.
"I'm proud of what they've gained at school. It's the motivation for me to continue teaching them to be a decent person, have a decent job and contribute to the society in their own way."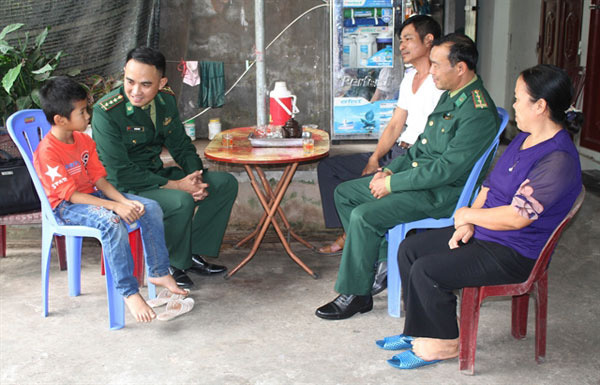 Lieutenant Vu Hai Ninh, an officer of Kim Son Border Guard and his foster child Huy. — VNA/VNS Photos Thuy Dung
Major Do Xuan Tinh, deputy head of Kim Son Border Guard said the unit had given VND500,000 (US$20) for four children to continue their studies and VND1 million ($40) for three smaller children to have food and education.
These children still stayed with their relatives as the school was not too far from their homes. The soldiers would go to the children's houses to take care of them, teach them and give support to relatives if needed.
Tinh said the unit had worked closely with the local authority and found more students from disadvantaged backgrounds. He called upon organisations and individuals to join the model in order to help more children in the future.  VNS

Thirteen-year-old Po Loong Chuyen used to get up at 5am every Monday to walk to a boarding school 10 kilometres from his house. He only went home at the weekend and helped his grandfather on the farm.

Ho Thi Phuong has a lot more responsibilities on her small shoulders than any 15-year-old should. The ninth grader raises her three siblings alone, without help from her mother or father.