Doctors at HCM City's Paediatrics Hospital have performed successful surgery on a two-year-old boy with the split-hand and split-foot malformation.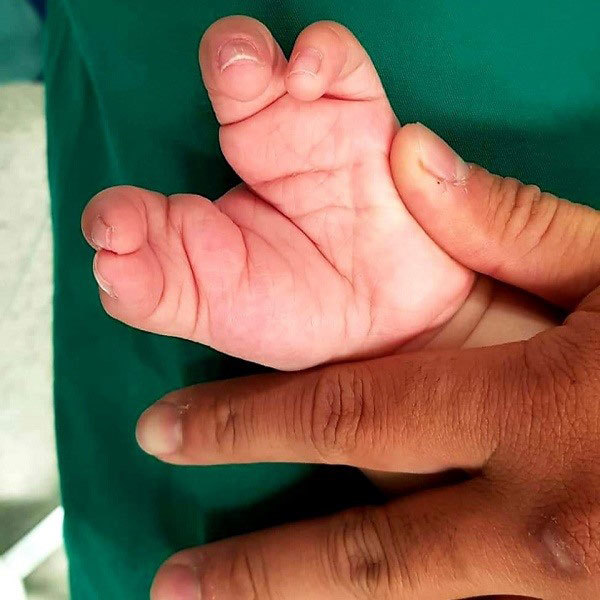 The boy's hand before the corrective surgery. He suffered from ectrodactyly, having malformed hands and feet missing fingers and toes. Photo voh.com.vn
The toddler's mother said the issue was first discovered when she was six months pregnant.
When the baby was born, he had four fingers on each hand, with two fingers joined together on each side and split in the middle.
The malformation also caused both of the child's feet to develop with the middle two toes missing, resulting in difficulty standing and walking.
The boy could never hold his toys in his hands like the other children.
His parents took him to many different hospitals but doctors repeatedly told them the risk was too high to operate.
When he was taken to the HCM City Paediatrics Hospital, doctors in the Orthopaedic Surgery Faculty asked for support from Professor Terry Light, a doctor specialising in hand problems in children from Loyola University Chicago Stritch School of Medicine.
The first corrective surgery was performed on the boy's left hand since he was left-handed.
After two hours of work, the doctors were able to fix 80 per cent of the malformation. After recovering, the boy could move his hand like normal.
Seeing the positive result, the doctors decided to conduct another surgery to fix the right hand and both feet.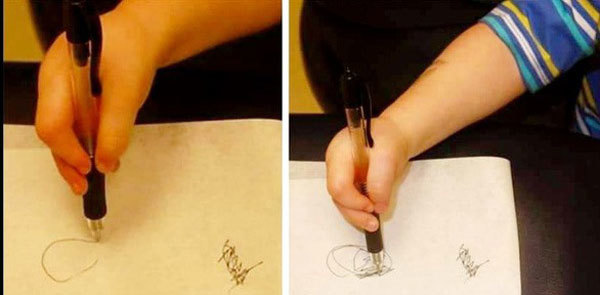 Following the procedure, he is able to hold things and write. Photo courtesy of the hospital
He is recovering well. Now, he is able to walk and pick up his toys. Doctors said that after proper rehabilitation at the hospital he will be able to write at school like the other children.
Nguyen Duong Phi, a doctor from the HCM City Paediatrics Hospital, said the syndrome, known medically as ectrodactyly, causes children to be born with deformed hands and feet which are missing the middle fingers and toes.
When the middle toes or fingers are missing it can give hands or feet the appearance of lobster claws. The condition often affects one's balance and grip.
It is caused by a genetic mutation when the baby is in the womb. The condition is rare and affects around one in every 100,000 babies.
Treatment of the condition can involve reconstructive surgery or prosthetics to help people live with the disability.
VNS