Doctor Nguyen Hoang Long, director of the Viet Nam Authority of HIV/AIDS Control, talks to Sức khỏe & Đời sống (Health and Life) newspaper about the use of buprenorphine in Vietnam.
1,000 drug addicts to be treated with Buprenorphine
Vietnam to use buprenorphine in drug addiction treatment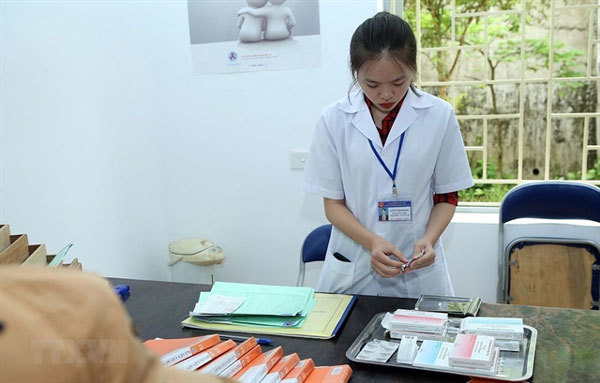 A medical worker in the northern province of Dien Bien prepares a dose of buprenorphine to treat a heroin addict. VNA/VNS Photo Phan Tuan Anh
Why has Vietnam decided to use buprenorphine to treat heroin addicts?
Buprenorphine (BUP) is used recreationally instead of opium, morphine or heroin in many countries. In France, about 20 per cent of all physicians are using BUP to treat about half of the estimated 150,000 heroin users.
In Vietnam, a pilot project using BUP has recently been launched in the northernmost province of Dien Bien. Vietnam hopes that BUP will help drug addicts to reduce their cravings. In addition, BUP also helps to relieve withdrawal symptoms like muscle and joint paint, sweating, anxiety or restlessness, yawning, runny noses. BUP also helps to prevent transmitted diseases through blood transfusions, such as Hepatitis B and C, due to its effect to reduce addicts' dependence on heroine.
BUP comes in the form of a tablet, so it is easy to transport and store. Its effects also last much longer than methadone, which means the drug addicts could come to a drug station near them to take the drug once every 2-3 days.
The use of BUP also gives drug addicts more options to choose their treatment course.
Will you explain a little more about the advantages and disadvantages of using BUP compared with methadone?
There is a big difference. As I said, the effect of BUP lasts between 2-3 days, while drug addicts would need to receive methadone every day. That means BUP treatment could help save patients a lot of time going to healthcare centres to collect the drug.
According to scientific reports, BUP has fewer side effects than methadone. However, patients still have to stay in healthcare centres for at least 10-15 minutes after taking the drug, while methadone patients can leave immediately.
Who can take BUP and what procedures do they have to go through?
All drug addicts, including opium addicts, will be eligible for BUP treatment, including those who are now taking methadone. However, they should visit their treatment centres and tell health workers they want to switch to BUP.
Is BUP provided free of charge?
At present, BUP is free of charge as it is provided by a project sponsor. Of course, when this support comes to an end, the Government will pay for the drugs from the State budget. However, some treatment centres may charge a service fee for people who are receiving methadone at the moment. In my opinion, the patients should talk to medical staff for more information.
When will the first HIV/AIDS patient in Vietnam be treated with BUP?
BUP has been introduced in many foreign countries, but is still new in Vietnam. That's why the Viet Nam Administration of HIV-AIDs has adopted a plan that in the first phase, it will be piloted in mountainous provinces, such as Son La, Dien Bien, Nghe An, Yen Bai, Hoa Binh, Lai Chau and Thanh Hoa. In these provinces, BUP will be provided at methadone treatment centres. After that we'll advise the Ministry of Health before expanding BUP treatment nationwide.
VNS