The driver of a bus in which a young schoolboy died after he was left on board earlier in August will be prosecuted for manslaughter.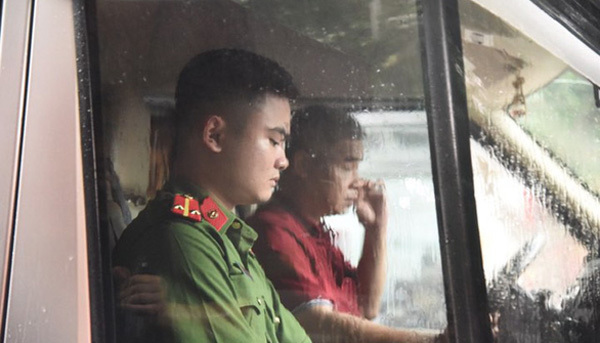 Driver Doan Quy Phien (in red) at a crime scene reconstruction on August 30, 2019. —Photo tuoitre.vn
Cau Giay District police decided to initiate prosecution against Doan Quy Phien, a contract bus driver of the Gateway school where the six-year-old boy attended.
The 53-year-old man has been placed on house arrest.
The tragic death of the first-grader who died on his second day at one of the most exclusive private schools in Hà Nội early last month shocked the entire country.
He was allegedly forgotten about and trapped on a 16-seater Ford Transit for nine hours during a scorching summer day.
The school failed to notify his parents after he failed to show up at class.
People only found the body of the child later in the afternoon when the bus prepared to take the children home.
An autopsy examination concluded he died from heatstroke and respiratory failure.
The police investigation determined that Phien was co-responsible with the bus monitor for the death when he failed to do a final check of the van, recklessly assuming that the accompanied monitor would take care of all 13 children on the vehicle that day.
The 54-year-old monitor Nguyen Bich Quy, who was in charge of taking the children from their homes to school and vice versa, already faces charges.
Cau Giay District People's Procuracy charged the two with "unintentional recklessness and negligence".
The Procuracy also said the investigation was still at the initial stage and the responsibility of the school would also be taken into account.

Frustration, pain, heartache and above all else, anger. Just a few of many emotions people are feel right about now after hearing the tragic news a six-year-old boy died after he was left on a school bus in Hanoi on Tuesday.

Cau Giay District's investigative police have begun legal proceedings against Nguyen Bich Quy, a school bus monitor for Hanoi's Gateway International School, following the death of a first grader there.
VNS