A section of the Metro Line No.1 project is under construction. The HCMC Department of Transport sought approval of the municipal People's Committee for developing a bus system connected to the metro line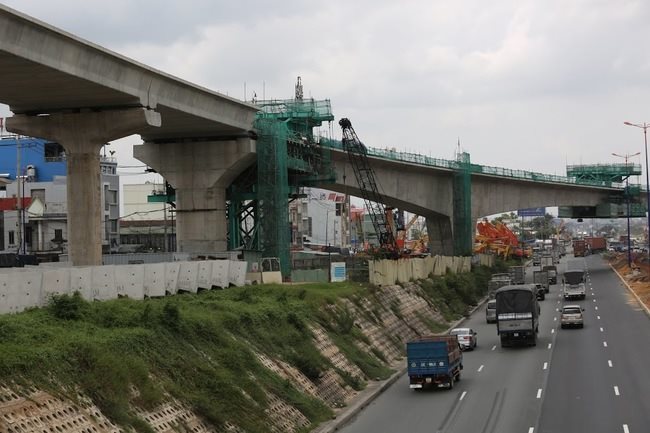 The Department of Transport in HCMC has written to the municipal government proposing a project to develop a public bus system connected to the under-construction Metro Line No.1 in the city, Thanh Nien newspaper reported.
The transport department sought the approval of the municipal People's Committee for the HCMC Public Transport Management and Operation Center to function as the project's investor.
According to the proposal, the center will invest in constructing infrastructure to connect commuter bus lines with the metro line; reorganizing bus lines operating on the Hanoi Highway; and launching 18 more bus lines linked with stations of the metro line to attract more passengers.
However, each metro station and bus stop should be designed as commercial sites to make the most of the full economic potential of the metro line, alongside the main function of transport connectivity, according to experts.
A representative of the department's Road Transport Management Division told the newspaper that the plan to connect buses with the first metro line had been earlier studied in a program, called SAPI, which was executed by the HCMC Management Authority for Urban Railways, with the support of the Japan International Cooperation Agency.
The program was expected to handle the overlap in operations of the metro line project and bus lines operating along the Hanoi Highway and to launch 13 new bus lines.
The proposal by the transport department was adjusted with more specific details and new data on current traffic conditions and urban development in the city.
The locations of and ways of accessing metro stations and bus stops will be taken into serious consideration to create favorable conditions for passengers to use the urban railway services, the representative added.
After the proposal is approved and added to a portfolio of medium-term public investment projects for the 2016-2020 period, the project's design team will survey metro stations and relevant works to map out the most appropriate transport connection solutions.
It takes roughly three months for study and design works to be completed, and the entire project is slated for completion in 2020, before the first metro line is put into service, said the representative. SGT