The Government has created conditions for localities and businesses to stimulate the import of Covid-19 vaccines, however, no proposals have been sent to the relevant agencies.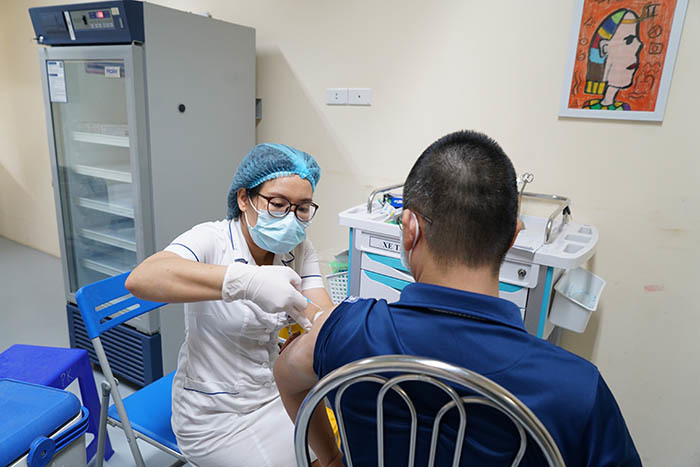 Strict conditions have made it difficult for businesses to import vaccines despite the country is dealing with the fourth wave of the Covid-19 outbreak that has caused widespread community transmissions in many parts of Vietnam.
The Ministry of Health has recently listed 36 businesses qualified to import, transport, and preserve vaccines in Vietnam, however, there are no businesses have registered to take part in this challenging market.
To gain green light from the Government and relevant agencies, the vaccine importers need to prove their capabilities in importing, preserving, transporting, and deploying vaccination, along with commitments to fairness, anti-fraud, -dumping and -price hike in the process.
An expert from the health sector, who wanted to be anonymous, told The Hanoi Times that the businesses engaged in this big "game" need to prepare the best conditions for their warehouse system and transportation to ensure the quality of vaccines.
"The import of vaccines is not like that of normal pharmaceuticals, therefore, it is difficult for businesses to import vaccines to Vietnam even though it has been facilitated," he said.
According to an instruction released by the Ministry of Health recently, the vaccine importers need to have a dossier including Ex Works (EXW) or certificate of quality granted by management agencies, which will be approved by the National Institute for Control of Vaccines and Biologicals within 48 hours, as recommended by the World Health Organization (WHO), to ensure quality and avoid importing vaccines of unknown origin.
Vietnam has allowed the import of vaccines, including AstraZeneca from the UK, Sputnick V from Russia, Pfizer from the US, Sputnick from India, and Sinovac from China, through the Government's assigned agencies and qualified businesses.
Vu Tuan Cuong, Head of the Ministry of Health's Drug Administration of Viet Nam, told The Hanoi Times that his department has promptly handled all orders of importing the Covid-19 vaccines from the Covax vaccine-sharing program proposed by the AstraZeneca Vietnam Company.
He said the department has also guided diplomatic organizations to submit dossiers enabling them to import the vaccines into Vietnam via non-commercial way according to the law, and approved the import of vaccines from AstraZeneca, Gamaleya, Sinopharm, and Pfizer that will be used in emergency cases.
"We have also asked businesses to send their dossiers to import other vaccines from pharmaceutical firms including Moderna and Johnson&Johnson," Cuong said.
Cuong said the department has discussed with a number of localities, corporations, and enterprises about procedures related to the vaccine import. However, the ministry has not received any order to import Covid-19 vaccines from them.
A businessperson, who doesn't want to disclose his name, told The Hanoi Times that the Government's policy of opening up opportunities to import vaccines to Vietnam is a right and wise decision. His company has been negotiating with at least two vaccine manufacturers approved by WHO.
"However, this is an uneasy business at this time because the demand for vaccines is very high in many countries while the supply is limited. In addition, the conditions for importing vaccines are extremely strict. The expiry date of the vaccine is a short time, within six months from the time of production," he said.
It may take 1.5 months to transport to Vietnam and half a month for testing and making procedures. If the vaccination is delayed, it may lead to the expiration of the vaccine," he added.
Modern technology required
Vietnam Vaccine Joint Stock Company (VNVC) was the first to have imported 30 million doses of AstraZeneca vaccine to Vietnam. It has so far received the second batch with 287,600 doses, bringing the total number of vaccines to Vietnam under this contract to 405,200 doses.
Deputy Minister of Health Truong Quoc Cuong has directed VNVC to seek and order more Covid-19 vaccines to serve the people's vaccination needs. In the following months, VNVC will receive millions of doses of the AstraZeneca vaccine per month.
VNVC is currently the only unit in Vietnam that owns a GSP standard cold chain system at its more than 50 vaccination centers nationwide, which are fully equipped with the modern automatic temperature control system, over-temperature warning system, and refrigerated vehicle for vaccines, ensuring standards required by the manufacturers.
The company is also the first and only unit in Vietnam to have a system of three sub-zero temperatures from around -40 degrees Celsius to -86 degrees Celsius, making the total capacity of vaccine preservation under the GSP standards up to 180 million doses of all kinds.
According to Minister of Health Nguyen Thanh Long, the ministry has carried out nearly 200 negotiations with global vaccine manufacturers for vaccine import and aid. They have committed to providing Vietnam with about 128.9 million doses this year. The ministry will try its best effort to reach 150 million doses from now until the end of the year, ensuring the country's herd immunity and bring life back to normal.
hanoitimes

"I am a soldier. If I don't die on the battlefield, I need to lead a meaningful life in peacetime," said Le Van De, a war invalid in Hai Duong, explaining why he donated VND4.5 billion to the vaccine fund.