The Ministry of Agriculture and Rural Development has begun inspections of erosion sites on riverbanks and coastal sites in Ca Mau Province.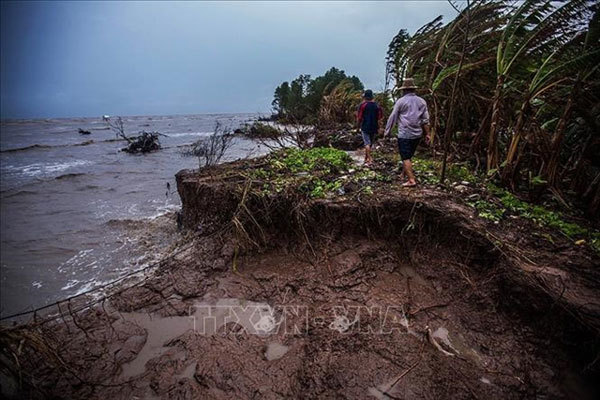 Erosion along the coast in Can Tho Province has affected residential areas and caused damage to transport infrastructure. — VNA/VNS Photo
Ca Mau is the first province in the Mekong River Delta to be inspected, which was ordered by the Prime Minister.
Nguyen Xuan Cuong, Minister of Agriculture and Rural Development, has directed the provincial authority to complete landslide prevention projects soon.
The province's People Committee has petitioned the Government to allocate VND947 billion for dyke projects that face a shortage of funds.
In addition, the provincial authority will continue to direct units to inspect landslide sites and identify potential landslide areas and promptly report to the Government, ministries and central branches.
The province's west and east coasts are seriously affected by climate change. The East Sea coast has suffered strong erosion, between 30 and 50m every year, because dyke systems have not been able to prevent erosion.
Erosion has affected residential areas near the coast, causing damage to housing and transport infrastructure.
Meanwhile, HCM City has 37 eroded sites along rivers and canals, including 19 that have been classified as "very dangerous", according to the city's Steering Committee for Incidents and Disaster Response, and Search and Rescue.
The rest of the sites, totalling nearly 23,500m in length, are classified as "dangerous". Many of them have been eroded for years.
They include the left bank of Phuoc Loc Bridge; Cay Kho Canal; the right bank of an upstream section at the confluence of Kinh Lo River and Tac Muong Lon Canal in Nha Be District; a section of Long Tau River in Can Gio District; Xom Cui Canal in Binh Chanh District; Tau Hu-Lo Gom Canal in District 8; and others.
The city has 35 anti-erosion projects but construction process has been slow. Several investors failed to conduct surveys on terrain, geology and hydrography, and, as a result, they did not meet standards of technical safety, causing delays.
Parts of other construction projects have had to be repaired after completion, while others have faced compensation problems.
Erosion has been caused by illegal land exploitation at areas near the Sai Gon River section in Cu Chi District and sections near Dong Nai River, the rivers of Long Tau and Soai Rap, and Can Gio Sea.
A number of embankments built to protect river banks and canals have also been encroached upon, contributing to erosion.
The city People's Committee in July told authorities in districts, wards, communes and towns to set up fences and warn residents not to travel in and near eroded sites.
Residents should move to other areas, it recommended. The city's Department of Construction should work with local people committees and provide accommodations to residents affected by erosion.

A number of provinces in the Cuu Long (Mekong) Delta facing serious erosion along rivers and coastal areas are taking measures to protect the land and people in the area.

Deputy Minister of Agriculture and Rural Development Nguyen Hoang Hiep has urged localities nationwide to step up the construction and repair of structures designed to prevent erosion along river banks and coastal areas before the rainy season
VNS