The People's Committee of the southernmost province of Ca Mau has proposed the Government spend VND524 billion to upgrade the sea dyke on its west coast to combat rising tides and landslides, which are seriously affecting local people.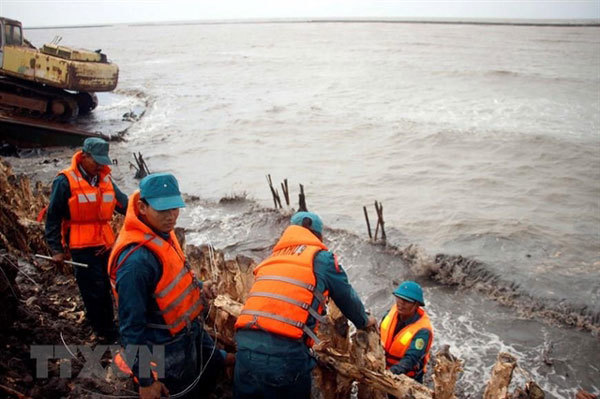 Soldiers are mobilised to protect the sea dyke from landslides and rising tides in southernmost Ca Mau Province. — VNA/VNS Photo The Anh
The sea dyke is 23.52km long, connecting Doc River in Tran Van Thoi District to Cai Doi Vam in Phu Tan District.
Ca Mau has more than 250km of coast. Of that, the western coast accounts for about 108km.
A 94km-long sea dyke was built to protect the coast in the storm season. However, strong tides and waves in the past several years have caused landslides, leading to the loss of farmland and houses.
About 57km of the western coast has suffered landslides, and the sea dyke is at high risk of damage.
Nguyen Long Hoai, chief secretariat of the provincial Steering Committee for Natural Disaster Prevention and Search and Rescue, said the proposed dyke section was built in 1999 and was seriously deteriorated.
The dyke suffered from subsidence. Meanwhile, the dyke's surface was used as a road. This posed risks of safety for people.
On August 3, the tide and heavy rainfall caused landslides along 2.1km of the sea dyke on its western coast.
At least 26,000 households would be affected if the sea dyke was damaged, he said.
Le Van Su, vice chairman of the provincial People's Committee agreed, adding that the consolidation of the dyke section was urgent.

A section of a sea dyke in the southernmost province of Ca Mau's western coast has been eroded due to high flood tides.
A series of landslides have been reported along a river in Nam Can District in the Mekong Delta Province of Ca Mau over the past few days, causing damage worth hundreds of millions of dong.
VNS