A leading domestic violence specialist in Vietnam has said there are more and more cases of women being beaten up by their partners – with many victims too scared to complain for fear of bringing shame on their families.
VN Ministry of Justice to amend Law on Marriage and Family
Around 70% of Vietnamese children face parental violence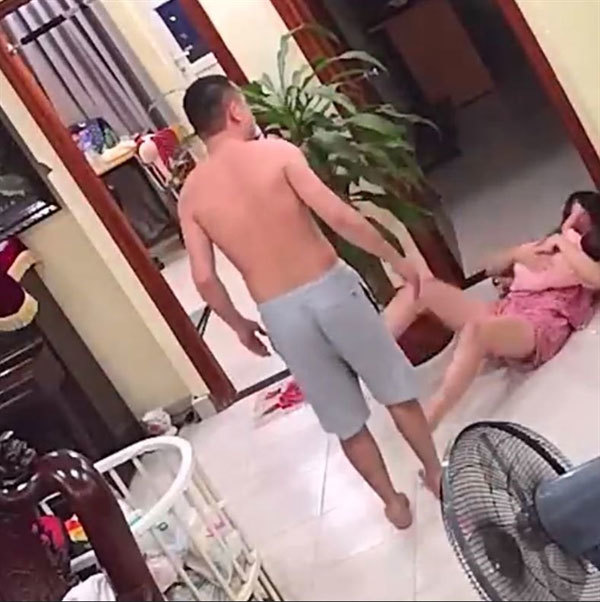 A screenshot from a video that emerged on social media sites shows a young woman in Long Bien District in Hanoi being kicked and punched by her husband while clutching their two-month-old son.
Research carried out by the United Nations Viet Nam says over the past 10 years one in three married women have been the victims of domestic violence.
This week a video emerged on social media sites showing a young woman being kicked and punched by her husband.
During the terrifying ordeal the woman is clutching her two-old-month son, but the child's father continues to rain blows on her.
Another child seen in the video, believed to be the couple's other son, is ordered into a room by the father who then continues the abuse.
At one point, she is seen running out of the room but her husband chases her, and continues to punch her.
The video was recording through security cameras in the family home in the Long Bien District, Hanoi.
It is not clear if the cameras were put in place because the man has a history of violence against his wife.
Since the video appeared online, it has since emerged the man is a martial arts expert and teaches a class in the capital.
At one point the shirtless thug spins, throwing a kick in the direction of her face. Eventually he punches her so hard she falls to the ground.
In July this year, a similar video went viral online showing a man in South Korea beating up his Vietnamese wife.
She can be seen cowering in the corner as the couple's two-year-old son cries out, holding his mother just inches from his father fists.
It was reported he was angry because she was speaking Korean poorly.
Now, campaigners against domestic violence say they are seeing more and more cases in Vietnam – but there are still plenty of instances where the victims are too scared to come forward.
Nguyen Thi Thuy, UN Women's specialist in Vietnam, said: "In the past, everyone, especially the victim, didn't want to say anything about this.
"But now, the higher the awareness of women and in society, there are more reported incidents of violence against women in the mass media.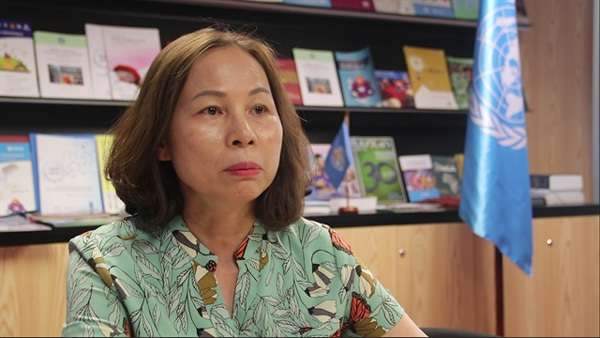 Nguyen Thi Thuy, UN Women's specialist in Vietnam. VNS Photo Hoang Ho
"Research over the last 10 years shows one in three married women have been victims of domestic violence, and many are keeping it to themselves rather than reporting it."
In both videos that have emerged, children witness the violence first hand.
Thuy says this could affect them in later life.
She added: "When the children live in a family where the father always abuses the mother physically and mentally, growing up in such a toxic environment, the spirit and growth of these children will also be affected, deformed and in danger of accepting violence returning to their lives in the future as adults.
"We should take measures, should have stronger education, women must stand up for themselves and everyone must recognise women more empathically, there is no prejudice against them.
"Only then will they escape from the marriages that are like imprisonment."

Signs you are a victim of domestic violence:
• Your partner bullies, threatens or controls you
• Your partner controls your money
• Your partner cuts you off from family and friends
• Your partner physically abuses you
• Your partner sexually abuses you
Signs someone you know is a victim of domestic violence:
• Excuses for injuries
• Personality changes, like low self-esteem in someone who was always confident
• Constantly checking in with their partner
• Never having money on hand
• Overly worried about pleasing their partner
• Skipping out on work, school or social outings for no clear reason
• Wearing clothes that don't fit the season, like long sleeves in summer to cover bruises
If you are the victim of domestic violence, or you know someone who is, you can call: 0946833380 (Centre for Women and Development (CWD).
VNS