Many universities in the country are tying up with the corporate sector to organise campus interviews for their students.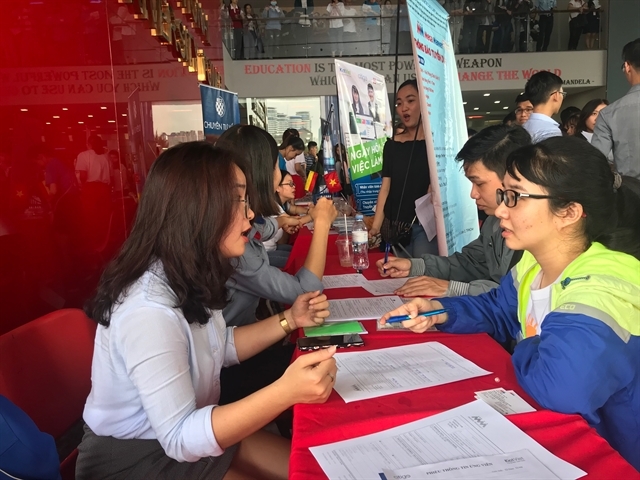 Hong Bang International University organised a campus interview on Thursday with 40 companies looking to hire more than 200 candidates.
Hong Bang International University saw one on Thursday with 40 companies looking to hire more than 200 candidates.
The HCM City University of Technology had organised one on April 10 with companies seeking to fill 500 non-technical vacancies.
Many IT companies held campus interviews at the University of Engineering and Technology under the Viet Nam National University Ha Noi on April 6.
At the campus interviews, students are not only interviewed by the companies but also given instructions on how to make their CV attractive to employers.
Tran Diem Thuy, a student at Hong Bang International University, told Viet Nam News she hoped to find a part-time job.
Assoc Prof Dr Ho Thanh Phong, the university's rector, said: "Job fairs are a chance for students to meet with companies and find out their requirements. They can also introduce themselves to enterprises and match their skills with [their] requirements."
Nguyen Van Tinh, deputy general director of Hoa Binh Construction and Real Estate Corporation, speaking at Hong Bang, said his company often took part in campus interviews at universities.
The job market, especially for new university graduates, had become larger than what it had been in the past, he said.
For instance, the construction sector had a large human resource need, and not only of architecture and engineering students but also students of many others streams such as accounting.
"To get jobs at large corporations, students should try to acquire professional knowledge and learn to apply what they have learnt in practice.
"It is very important that they should have good ethics."
Huynh Thi Huyen, deputy head of human resource recruitment at Suleco Overseas Manpower Service Company, said her company was looking to hire Japanese teachers and workers to go to Japan to work.
It would need honest candidates, she said, adding that Japanese enterprises would prefer self-motivated people.
Graduates with excellent academic records but without these traits would not be hired, she said.
Many students were apprehensive about the fact they lacked work experience and expressed the fear this could prevent them from being hired.
Truong Hoang My Linh, head of human resource recruitment at Manulife insurer, said they should be confident in their knowledge and skills, explaining that many companies do not care about lack of experience when they hire at universities.
"It is only important that they show they are ready to learn and work well," she said.
Unlike in the past students now have the chance to practise their skills and improve their professional knowledge right at university, she added.
According to companies, the ability to communicate in foreign languages including English is an advantage for graduates looking for jobs.
In the period from 2009 to 2017 the rate of university graduates in the city who got jobs was more than 80 per cent. VNS

The proposal to raise the retirement age is necessary as Vietnam's retirement age regulations have been outdated after 60 years, and the average life expectancy of the Vietnamese is higher than that of people from many Asia-Pacific countries.

As its labor cost is equal and even higher than other countries, Vietnam will have to replace the cheap labor advantage for the skilled workforce advantage in the coming time to raise the competitiveness.

The Ministry of Labor, Invalids and Social Affairs (MoLISA) has suggested that administrative agencies across the country open at 8:30 a.m. in a proposed amendment to the Labor Law.