The Cuu Long (Mekong) Delta city of Can Tho plans to build concrete embankments in some of the city's eroded areas, according to Vo Thanh Thong, chairman of the Can Tho City People's Committee.
Erosion-prevention measures urgently needed in Mekong Delta
Over 18,400 people need to be relocated in Can Tho due to erosion risks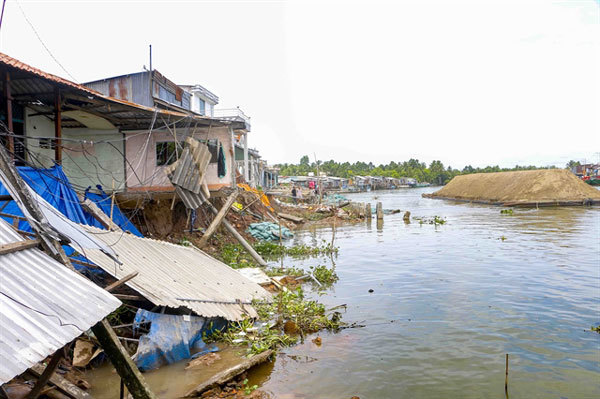 An erosion site at the O Mon River bank in Can Tho City's O Mon District. — VNA/VNS Photo Thanh Liem
Thong led a group of city officials on a visit along the O Mon River in Thoi Lai District's Thoi Thanh Commune on Tuesday (May 14) to inspect erosion levels.
Because the city does not have a sufficient budget to build concrete embankments in all eroded areas, Thong said local authorities should encourage locals to make wooden embankments.
In eroded areas without need for embankments, local residents can plant trees as a preventive measure, he added.
Erosion at the T-junction of the O Mon River and the Rach Tra rivulet mouth has affected roads, a primary school and an old pagoda, according to the city's Department of Agriculture and Rural Development.
Nguyen Quy Ninh, head of the department's Irrigation Sub-department, said the river played a crucial role in the city's waterway transport and many large ships travelling at high speed on the river caused big waves.
The waves hit the riverbank, carving out notches, which has led to erosion in the T-junction area, he said.
The Thoi Lai District People's Committee has used stakes made from cajuput and coconut trees to set up wooden embankments along the T-junction area, and has planted trees along the river to prevent erosion.
However, these traditional prevention measures have not been effective, according to the district's People's Committee.
The department on Tuesday asked the city's People's Committee to approve the construction of a 430m long concrete embankment along the T-junction. The cost would be about VND50 billion (US$2.14 million).
Five erosion cases along rivers and canals have occurred in the city this year, damaging many houses, according to the Irrigation Sub-department.
An erosion case in Vinh Thuan District on April 15, for instance, caused four houses to fall into the Cai San Canal. The total damage was more than VND1 billion ($428,000).
The city has more than 100 erosion–prone sites with a total length of 52.7 kilometres.
VNS