Despite suffering from cervical cancer, a Hanoian woman is still passionate about her volunteer work. She travels far and wide to remote areas to help poor people, especially underprivileged children, have a better life.
Do Thi Nga presents gifts to people affected by the floods in the Central region. Photo: VNN
Her name is Do Thi Nga, a resident of Hanoi's Tay Ho District who is also head of the National Volunteer Network in the Central region.
"On October 13 when the floods started, we were in the districts of Hai Lang and Gio Linh in Quang Tri Province to support local people.
"Three days after we returned to Hanoi I heard that a landslide had occurred in Quang Nam Province so I went back to the Central region to assist the people there," she said.
Nga and her volunteer group have provided VND550 million (US$23,730) for the people of Quang Ngai Province, and VND2.1 billion to Quang Nam Province. They have also donated nearly 8,000 gift packages in Quang Tri and 13,000 in Quang Binh Province.
Aside from offering immediate assistance, Nga also has a long-term for people to build flood-proof houses, helping them to get back on their feet after the waters recede. and conducting surveys to install solar panels in schools in the districts of Nam Tra My and Bac Tra My in Quang Nam.
"We also plan to help farmers raise deer and goats as they are more adaptable to climate change than buffalos and cows," she said.
Talking about the reasons she is involved in the mission, Nga said: "I started engaging in volunteer work after a visit to Ky Son, a mountainous district in Nghe An Province where people did not have access to the national grid and students did not have not enough food.
Some children even died after mistakenly eating the leaves of ngón (Gelsemium elegans) - a poisonous plant, on the way home from school," she said.
Then she decided to do something to help the students.
Nga became the chairwoman of the Yen Thanh – Nghe An Love Sharing Club and became involved in charity projects in 2014.
The first project she implemented was installing solar power for Pa Ca Village in Ky Son District's Nam Can Commune.
To raise money, she called for help from friends, donors and volunteer groups with similar goals.
Nga and other club members also collected rubbish which could be recycled such as beer cans and cartons, and sold them for money.
The solar power project was inaugurated within a month, resulting in powering 20 classrooms and helping teachers prepare their lessons on computers.
Nga remembers what the principal of Nam Can Primary School told her during a phone call two months later.
"I've been teaching at the school over the past 20 years but this is the first time our school has sent students to compete in a district writing contest," he said.
It acted as motivation for Nga to continue her charity mission.
Not long after the project's inauguration, she managed to contact other donors to build bridges worth billions of Vietnamese dong for disadvantaged villages in the district.
It included two bridges in Bao Nam Commune's Luu Tan Village where local residents used to have to cross two strong streams.
Free meals
A free food programme was also started by Nga after she witnessed the poor nutrition of local students during a trip to hand out warm clothes.
"I burst into tears when I saw students just eating plain rice and salt for lunch," she recalled.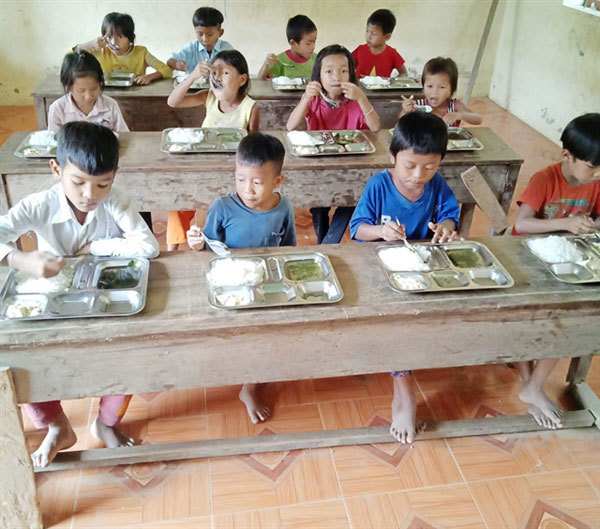 A free food programme initiated by Do Thi Nga has given motivation to local students to go to school. Photo: VNN
Because their houses were far from the school, it took several hours for the students to go home for lunch. Some didn't return for their afternoon classes, so Nga tried to find ways to supply meals with proper nutrition for them.
As many as 2,030 students have received free lunches since 2018.
In addition to providing them with sandals, clothes and blankets, they are all given a lunch box.
"When the students don't finish their lunch, they take a portion of rice and food to bring home for their sisters or brothers," she said.
Challenges
Nga said she couldn't remember how many difficulties she had faced in her volunteer work.
"There are days that I feel homesick and tired due to working non-stop from 5am to 10pm to make sure the gifts are distributed to people in need."
On September 8, after spending nearly a month assisting people in flood-hit areas, Nga was so exhausted she asked a doctor to give her a saline intravenous infusion to reduce her fatigue.
The following morning, after feeling better, Nga accompanied other members of the volunteer group to visit houses where the roofs had blown away in storms in Quang Tri Province.
Nga said at first, she didn't get support from her family because they were worried about her health. However, she persuaded them by living a healthy and meaningful life.
"Every time I join a volunteer trip, there is more medicine than clothes in my baggage. But I think that optimism is the driving force that helps me continue pursuing the job I love."  VNS/VNN

Phan Thi Ngoc is 77 years old but still makes new blankets for poor people living in remote areas, child cancer patients and those living in shelters around the country.

After closing their restaurant due to Covid-19, a couple in HCM City have offered free meals for low-income people in the area.