A carer in Long An Province has been suspended after being found hitting a child while feeding him.
 Child abuse cases occur mostly at private nursery schools
VN police wants tighter social surveillance of child abusers
HCM City prevents child abuse at kindergartens with city CCTV cameras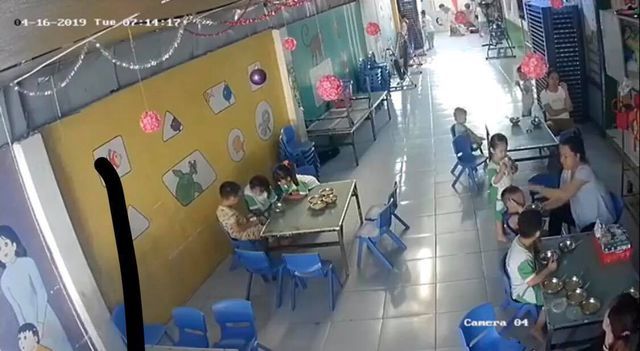 A carer accused of hitting a child while feeding him
Many people expressed anger after the clip featuring the scene was uploaded. In the clip, a carer continually hit a child on his head while feeding him at a rapid pace, leaving him no time to swallow.
There were two other carers nearby but no one interfered when the incident occurred at around 5.14 pm on April 16. All three carers were criticised.
Nguyen Tan Loi, head of the Department of Education and Training in Duc Hoa District, said on April 29 that they had reviewed and confirmed that the case occurred at Hoa Bach Hop, a private kindergarten in Duc Lap Ha Commune.
The kindergarten was opened by a resident from Dong Nai Province in 2017. It was approved by the local authorities and has nearly 50 children.
The child in the clip is over two years old. He has been sent to Hoa Bach Hop Kindergarten since he was seven months old.
According to the carer, he often vomited while eating so she had to feed him very fast and pat him on the head continually.
The owner of the kindergarten has suspended the carer and apologised to the child's family. Dtinews