Former Deputy Minister of Labor, Invalids and Social Affairs Le Bach Hong, 65, has been indicted for his role in causing losses of VND1.7 trillion (US$73 million) for the Vietnam Social Security.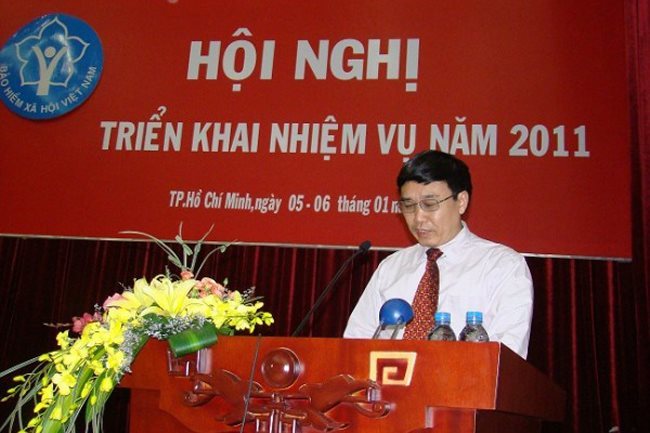 Former Deputy Minister of Labor, Invalids and Social Affairs Le Bach Hong has been charged with economic mismanagement during his tenure as the general director of Vietnam Social Security – PHOTO: THANH HOA SOCIAL INSURANCE
The Supreme People's Procuracy issued the indictment for the economic mismanagement case involving Vietnam Social Security (VSS), Finance Leasing Company No.2 (ALC II) and other organizations.
Hong, who also served as general director of VSS, was charged with deliberate violations of regulations on economic management leading to serious consequences, based on Article 165 of the 1999 Penal Code, which carries a prison sentence of 10-20 years.
Four others were also indicted under the same charge: Nguyen Huy Ban, another former VSS general director; Nguyen Phuoc Tuong, former head of VSS' Finance and Planning Department; and Tran Tien Vy and Hoang Ha, both former heads of the department's General Planning Office.
Tran Thi Thanh Thuy, a former executive of the General Planning Office, was charged with negligence leading to serious consequences.
The former VSS leaders Hong and Ban, together with other individuals, were detained last November as part of a wider probe into the economic mismanagement case, which saw former ALC II general director Vu Quoc Hao being given the death penalty for embezzlement and intentional violations of regulations.
According to the indictment, Tuong, who was also the chief accountant at VSS, asked Vy and Ha to draw up 14 proposals between March 2008 and August 2009, which suggested then-general directors Ban and Hong offer loans from the social insurance fund to ALC II.
Having obtained their approval, Tuong instructed the General Planning Office to prepare contracts and send them to ALC II by email. The hard copies of these contracts were signed by ALC II before being submitted to VSS.
The office handed the contracts to Tuong, who later inscribed his initials on them. The contracts were then sent to the then-general directors for final signing.
Consequently, the insurance agency clinched 14 contracts with ALC II and gave loans exceeding the guaranteed limit of the company, resulting in outstanding loans totaling over VND1 trillion, as of 2011.
VSS was allowed to offer loans to State-owned commercial banks only.
In 2015, the State Audit Office of Vietnam found that the recovery of public debts at ALC II had made no progress. The company still owed the insurance agency over VND769 billion in 12 past due loans, with interest totaling more than VND735 billion by late 2015.
The principal and interest now amount to over VND1.7 trillion (US$73 million).
Le Bach Hong had served as deputy minister of Labor, Invalids and Social Affairs since 2005. By the end of 2008, he was additionally assigned to the post of general director of VSS until his retirement on March 2014. In 2012, he was reprimanded by the Party for the violations. SGT

Thousands of foreign employees in Vietnam have been inducted into the mandatory social insurance programme, according to Vietnam Social Insurance (VSS).

The Inspection Commission of the Party Central Committee has issued a warning against Deputy Minister of Finance Huynh Quang Hai, who is also a Party member, for his inappropriate lifestyle and his violations of Party rules.

The Viet Nam Social Security (VSS) aims to slash the social insurance debt ratio to below 1.7 per cent this year in an effort to ensure benefits for social insurance and health insurance card holders,