A dozen of drums suspected of containing toxic chemicals were illegally dumped along Thang Long Boulevard after the National Independence Day holiday, reported the Vietnam News Agency.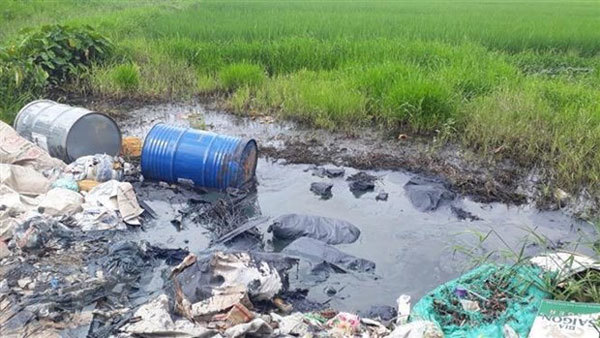 Chemical drums are dumped in an irrigation canal on Thang Long Road. — VNA/VNS Photo Manh Khanh
The drums, which were leaking thick, black substance, were littered close to paddy fields and irrigation canals.
Nguyen Quang Khai, vice director of Ha Noi Urban Environment Company's Cau Dien Branch, said that on Tuesday, the staff had discovered 12 drums on Thang Long Boulevard in Hanoi's Nam Tu Liem District.
The drums had different colours containing about 200 litres of liquid each, Khai said.
The liquid had a pungent odour which caused headaches, sneezing and shortness of breath, he added.
The company had reported the incident to Hanoi's Police, Construction Department, Natural Resources and Environment Department, and Nam Tu Liem District's authority to give measures on prevention of illegally placing garbage, especially industrial and toxic waste on the road.
"This was not the first time the highway was an illegal dump of industrial toxic waste," Khai said.
In early August, the company uncovered dozens of chemical drums placed on the road in Ngoc My Commune of Quoc Oai District.
The road is close to paddy fields and threatened the environment and people's health, he said.

The People's Committee of northern Hai Phong City has called for an investigation into the illegal dumping of 27 barrels of suspected chemical waste into the city's Hoa Binh Canal.

Residents in Sam Son City in Thanh Hoa Province are calling for help as their lives have been greatly affected by a huge dump site.
VNS