A young chemical engineer in HCM City has touched upon a way to extract edible sap, or honey, from otherwise worthless nipa palms.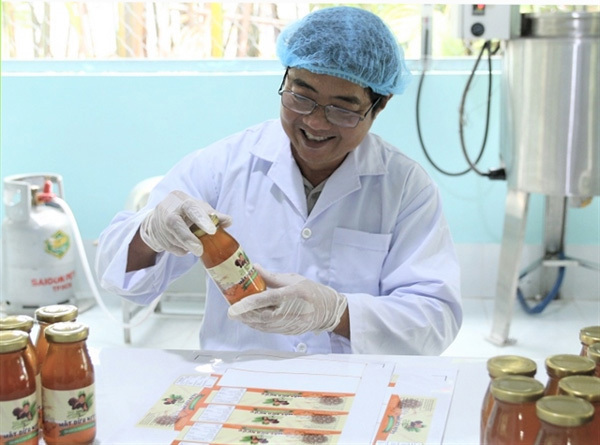 Pham Minh Tien and his nipa palm's sap products, which could be found on the website and Facebook page Dừa Nước Ông Sáu. — Photo from Facebook
The man behind the idea, Pham Minh Tien, has just won second prize in a national rural start-up contest for the palm sap, which is extracted using a special 'hands-on' technique.
Nipa, or mangrove palm, grows densely in coastal estuaries and canals in the Cửu Long (Mekong) Delta region, or in semi-mangrove areas.
The immense, green palm forests can be seen when travelling on the estuaries of Can Gio, Go Cong to rivers of Tien, Hau, Co Chien, Ham Luong and Vam Co in the delta.
The flower produces nuts arranged in a globular cluster up to 25cm across on a single stalk.
Normally, locals just eat the copra inside the nuts. They eat them with ice or sugar as snacks during the summer. The copra can be made into tea or jam.
They use the palm leaves for roofing or firewood, but did not know how to extract the sap to make sugar, wine and beer, fermenting vinegar, distilling alcohol, and some other valuable products.
Tien realised the palm contains other valuable nutrients, not just the copra and leaves.
Tien found documents online showing that in some Asian countries, people had sought ways to make the palms secrete the edible sap. However, this practice was fairly new in Vietnam.
Filipino and Malaysian people collected the edible sap to produce a local alcoholic beverage called tuba, bahal or tuak.
"The more I read, the more I became interested in it," Tiến told Tuổi Trẻ (Youth) Newspaper.
"I was determined to find out how to extract the sap," he said.
According to the instructions posted online, cutting the stalk 15cm below the cluster and rubbing on it should cause the sap to start flowing, if the maturity of the plant is correct.
He tried with hundreds of stalks, but could not gather a single drop of sap.
He did not give up, however.
"When the first drop of sap emerged from the stalk, I wanted to scream because I was so happy," Tien said.
He found the technique was to rub or massage the stalks in the right way.
"The rubbing must be done correctly," he said. "I kept it a secret, and only shared the technique with those who really care and want to increase the value of the mangrove palms."
Tien shared his secret with two brothers, Tran Minh Hai and Tran Hieu Nhan – his neighbours in Binh Khanh Commune, Can Gio District of HCM City – who owned a palm forest.
Thanks to the special massage, the two brothers became Tien's palm sap suppliers.
Hai and Nhan earned a stable income from supplying the palm sap.
"First, I was surprised when I heard about extracting sap from the mangrove palms," Nhan told the paper.
"After a week practising my rubbing technique, I saw the sap flowing from the stalks," the farmer said.
Every stalk could produce a litre of sap every day, over 20 consecutive days, Tien said.
This meant a palm could bring in a higher economic value compared to copra and leaves, he said.
Mature products
Tien now supplies two products from the palm sap – a pure sap liquid and condensed honey-like sap.
The pure liquid is pasteurised and bottled, to be used as a beverage with a light sweet and salty taste.
The palm sap is healthy because it contains vitamins and minerals, he said.
To make a litre of condensed honey-like sap, he had to use 10 litres of pure sap.
His products have been recognised for their high quality.
The tests proved that the palm sap is suitable for diabetics, vegetarians or those on a diet.
"I did not add any additives or preservatives, because the palm sap itself is good enough," said Tien.
Tien named his products Ong Sau's Mangrove Palm after his father.
Tien and his partners are working to brand the products as a specialty of Can Gio District.
"I wanted to produce special products from my homeland and I wanted to provide customers with healthy and safe products," Tien said. — VNS

Bay Mau nipa palm forest in Cam Thanh District, Hoi An City in Quang Nam Province, is another must-visit destination of the ancient town.