More than 160 young people, representing the 26 million children of Vietnam, gathered in Hanoi this week to express their concern over child-related issues and propose recommendations to State officials.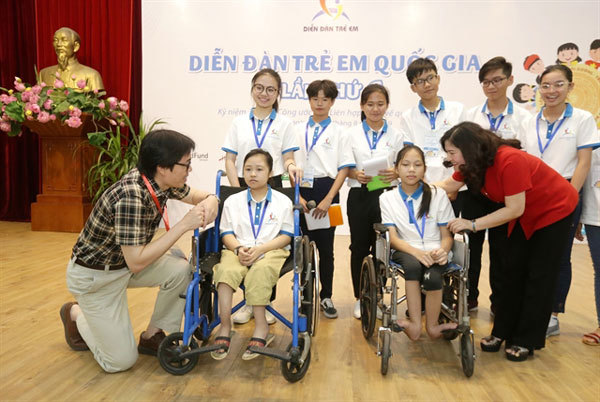 State officials talk to children at the forum. — VNA/VNS Photo Anh Tuan
The national forum on children, held for the sixth time, presented an opportunity for children to engage on issues that affect them.
"Children's engagement on their own issues has been regulated in the international convention on children's rights, the Vietnamese Constitution 2013 and the Child Law 2016," said Nguyen Thi Ha, Deputy Minister of Labour, Invalids and Social Affairs, at the forum's opening ceremony on Thursday.
The participating children come from 41 cities and provinces, children's councils, a disabled centre and SOS Children's Village.
In June and July, children nationwide took part in dialogues with authorities at local forums and raised a number of issues.
This year's national forum, which opened on Wednesday and will run until Saturday, sends the message: "Children raise their voice – Children initiated – Children take action together".
Bui Khanh Huyen, a participant from Kim Boi District in northern Hoa Binh Province, expressed concern about violence.
"Children are suffering from violence as well as physical and mental abuse. I want to raise this issue at the national forum," Huyen said.
Ta Phuong Nhung from central Quang Tri Province said one of the issues threatening children is drowning.
"I want to send a message to the forum that children should learn how to swim to protect themselves from drowning," Nhung said.
Other issues that were raised at local children's forums and will be discussed at the national event are preventing and protecting children from injuries and sexual abuse, ensuring safety on the internet, moral education and learning life skills.
On the last day of the event, children will hold talks with Government officials and representatives of the National Committee on Children to directly deliver their wishes to adults in positions of power.
Their messages and recommendations will be sent to social organisations, policy makers and other people working for children.
After the forum, the National Assembly's Committee for Culture, Education, Youth, Adolescents and Children will supervise follow-up actions from the Government, ministries and local authorities to make real the recommendations.
VNS