Chung cake makers in Hanoi are facing difficulties buying pork as demand increases for the Tet Holiday.
  Chung cake makers have to search and store pork early
Because of African Swine Fever, Vietnam is facing a serious pork shortage and high pork prices. The average pork prices are ranging from VND83,000 (USD3.6) to VND250,000 per kilo. As a result, many Chung cake makers have to search and store pork early.

Le Thi Hoa, a Chung cake provider in Hanoi's Nam Tu Liem District, said, "Pork prices have reached a record level. I have to buy and store pork since several months ago or else the prices will increase even more and I will not be able to find any pork."

According to Hoa, the farmers brought pork to her home in previous years. But this year, she couldn't buy pork from farmers and had to order from animal husbandry companies since September. Hoa was able to buy 50 kilos of pork which was enough for the full moon orders but not enough for the first day of Tet.

"For 27th and 28th of the lunar December, a wholesale customer already booked 1,000 cakes. Each cake needs 50-100 grams of pork. If I don't act quickly, I won't be able to fulfil the orders," Hoa said.

The pork prices have increased by half compared to early 2019. Last year, Hoa sold each cake for VND45,000 (USD2) to VND60,000. But she will have to increase the price to VND65,000 to VND80,000 this year. That's why she will only agree to make 1,500 cakes.

Nguyen Thi Xuan, a Chung cake maker in Thach That District, is also in the same situation. She and other makers have never thought that there would be a pork shortage and high prices like this. She has to increase the price of each cake by VND5,000 and searched everywhere to buy pork.

"I only intend to make 2,000 cakes this year. I will need about 100 kg of pork. I have received pork and made Chung cakes gradually to fulfil the orders. I have to calculate carefully so that I'll still have some profits amid the price hike," she said.

Each Chung cake is being sold at VND60,000 (USD2.60) and the price is predicted to increase to VND65,000 to VND70,000 at Tet. Wholesale price is VND45,000 per cake so many people have already ordered Chung cakes.

Le Thanh Nam, a wholesale pork trader from Phu Tho Province, said there was nearly no pork left at household farms. The supply from the husbandry companies is also limited so he would prioritise regular customers. VietNamNet/Dtinews
The Ministry of Agriculture and Rural Development's leadership should evaluate and learn from its shortcomings and be held accountable for delays in reporting the potential shortage of pork and the pork price hike to the Government.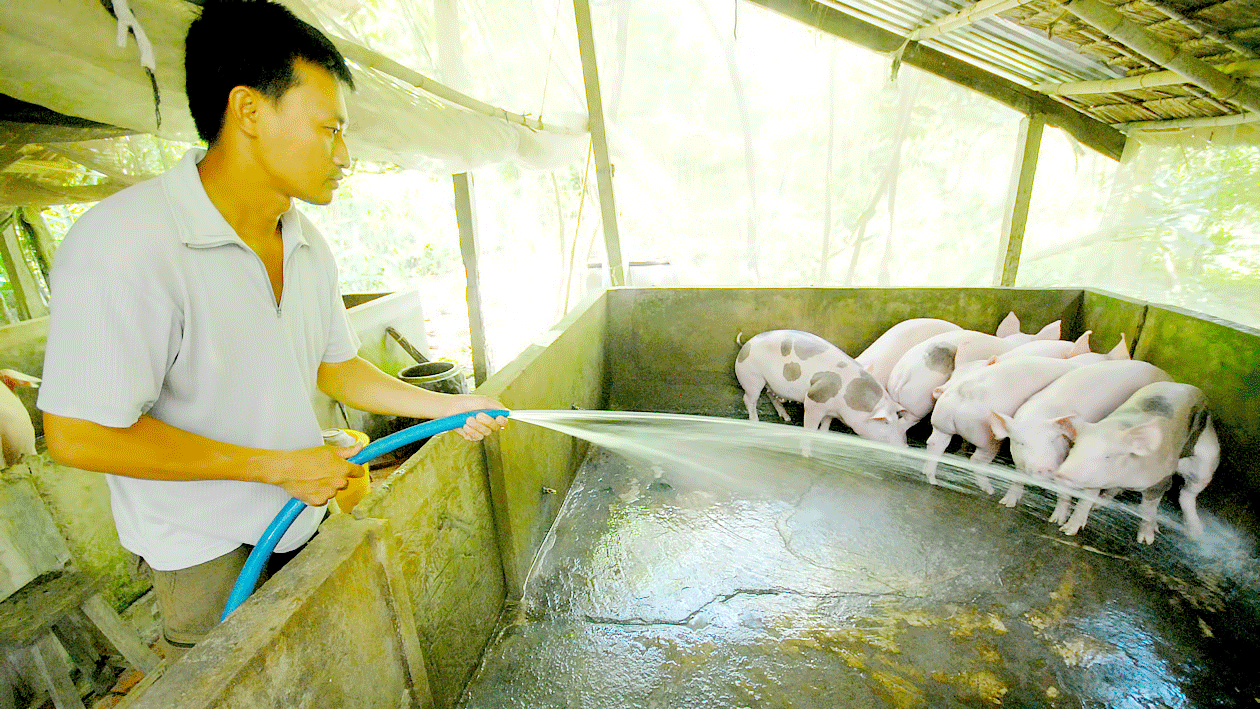 Prices of pork hit a record high with some supermarkets in Ho Chi Minh City selling pork ribs at VND280,000 per kilogram and the price of pigs reaching VND90,000 per kilogram.