Vietnamese customs officers have seized 58 boxes of smuggled cigarettes in Vietnamese waters, online newspaper vietnamplus.vn (Vietnam News Agency) reported yesterday.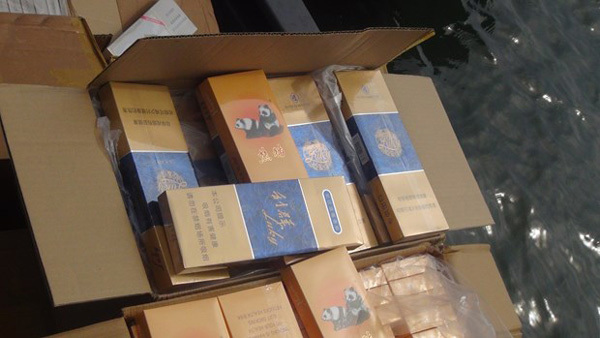 The cigarettes seized at sea.
At 5.45pm on Monday, customs officers discovered three high-speed boats trading goods at sea.
When they were discovered, the men on board attempted to flee, but were unable to start one of the vessels. The suspects boarded the other boat and went into Chinese waters, one officer said.
The smugglers left a motorboat fitted with a Yamaha 85CV machine and painted with Chinese characters. The goods were abandoned on board.
The goods included foreign-made cigarettes with likely Chinese brand names KTC, Lucky, Da Chien Men and Xiong Mao.
The customs officers seized 58 boxes, equal to 29,000 packs of cigarettes valued at about VND300 million (US$13,000), including the boat.
According to Vietnam Customs, smuggling, trade fraud and illegal transportation of goods at sea, for last years, had become more and more serious with sophisticated methods and tricks.
The smuggled goods include petrol, alcohol, cigarettes, cosmetics, firecrackers, clothes and garments, footwear and food.
Cigarette smuggling mostly occurs in Quang Ninh Province's Mong Cai City, which borders China, and the busy Hai Phong Port.
Smugglers usually used two to four high-capacity boats to illegally transport goods at night into Vietnam.
They continuously changed the hand-over locations to avoid patrols.
They also used smaller boats disguised as fishing vessels.
The smugglers' vehicles were sometimes armoured and equipped with radar, GPS devices and electronic marine charts.
The smugglers were very aggressive and reckless. They did not hesitate to ram other vehicles in attempting to flee officers, the customs officials said.

More than 100,000 people die each year from cancer in Vietnam, and medical experts believe the fatality rate will rise because more and more young people are starting to smoke.

Illegally-imported sugar products have seriously affected the Vietnamese sugar sector which is facing numerous challenges.  

Trade fraud and large-scale smuggling in the last two years have led to closure of than one-third of sugar mills in Vietnam, and many sugarcane fields have been left uncultivated.
VNS