Social distancing has been applied in many areas as Vietnam confirmed a record 64 locally-transmitted Covid-19 infection cases on Thursday.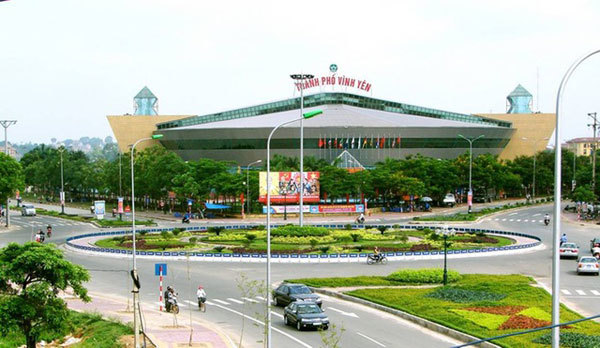 Social distancing rules reapplied in Vinh Yen City, Vinh Phuc Province.
On May 6, Chairwoman of Bac Ninh Province People's Committee Nguyen Huong Giang announced that social distancing rules would be applied from May 7 in three districts of Luong Tai, Thuan Thanh, and Tien Du, and Tu Son Town and Bac Ninh City. The northern provinces reported 12 locally-transmitted Covid-19 infection cases the same day.

All unnecessary meetings and events must be stopped. For unavoidable meetings and events, there must be less than 20 people in the same room. Bac Ninh also banned crowds of more than 10 people outside public buildings like schools and hospitals. Religious, cultural and sports events were halted and cafes, as well as eatery services in markets and shopping centres, must also be suspended.

State employees and military personnel were asked to only leave the province if necessary. Local people were also asked to limit travelling. Online meetings and online public services are encouraged to avoid meeting face-to-face. Locality authorities will continue to carry out awareness-raising programmes while tightening monitoring over preventive measures.

Thai Binh Province People's Committee also implemented social distancing rules starting from 12 pm on May 6 when the province reported five positive cases in Vu Thu, Thai Thuy and Kien Xuong districts.

A woman in Vu Thu District was tested positive after taking care of her family member at the Hanoi-based National Hospital for Tropical Diseases. Thai Thuy District has three positive cases and Kien Xuong District has one case who all related to the outbreak at the National Hospital for Tropical Diseases. Eight people who were in contact with the patients have been detected.

Five checkpoints have been set up in Thai Binh. A crowd of more than 20 people in public places has been banned and various services were also suspended as schools closed from May 6.

Chairman of the Vinh Phuc Provincial People's Committee Le Duy Thanh has also signed an official document to lock down Vinh Yen City for 15 days from May 7 after the city recorded 11 Covid-19 infection cases in the community. Local residents were asked to stay home and only go out if necessary. Factories and offices must make sure that the employees stay 2 metres apart from each other, wear face masks and the places are disinfected as regulated.

"The leaders must take full responsibility if they let an outbreak occurs in their area," Thanh wrote in the document.
As of Friday morning, Vietnam reported 3,091 Covid-19 patients, including including 1,691 locally-infected cases.
Since the latest wave of coronavirus outbreaks from April 27, the country has recorded 121 local infections in 15 localities, including Hanoi, Da Nang, and HCM cities, and the provinces of Ha Nam, Vinh Phuc, Hung Yen, Quang Nam, Dong Nai, Hai Duong, Yen Bai, Thai Binh, Bac Ninh, Lang Son, Quang Ngai, and Thanh Hoa. 
Dtinews

Chairman of the Hanoi People's Committee Chu Ngoc Anh has ordered drastically implementing COVID-19 prevention and control measures amid the complex and unexpected developments of the pandemic.

The latest COVID-19 wave to hit Vietnam is more complicated to deal with than previous ones as there are various sources of infection,