Tet (Lunar New Year) is an important time of year for every Vietnamese person worldwide, but it's that little bit more special for Lu Van Phong and his family this year.
That's because the 47-year-old war veteran from Hoang Su Phi District in the northern province of Ha Giang, and his family will celebrate their first Tet in their new home.
The house was built with financial support form the Vietnam Association for Supporting Unexploded Ordnance/Mine Action (VNASMA) and the local Red Cross association.
"I was injured seriously when I took part in the Vi Xuyen battle against the Chinese invasion in 1984," Phong said.
"Life is so difficult as I lost 25 per cent of my health and can't really do hard work. My wife has to work in the field alone."
"With our little savings, we could never build a house without support from the VNASMA and the Red Cross."
Phong is one of many war victims receiving support from the VNASMA, according to Lieutenant General Nguyen Duc Soat, hero of the People's Armed Forces and former Deputy Chief of Staff of the Vietnam People's Army.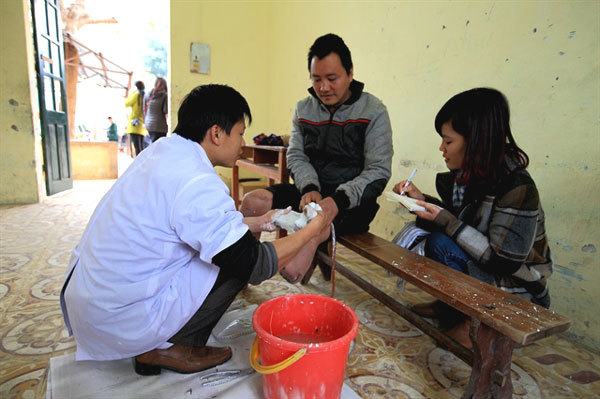 LIFE-CHANGING: A victim of UXO in Ha Giang receives a prosthetic limb.

As president of the VNASMA, Soat and his comrades in co-operation with local Party committees, local authorities and international organisations have supported victims of unexploded ordnance (UXO) nationwide and worked to eliminate UXO.
A ceremony took place last week in Hanoi to review the activities of the VNASMA since its establishment in 2014.
"In five years, VNASMA has been developed with the participation of 1,500 members," said Soat.
"We have helped more than 5,500 victims through activities such as building houses, giving breeding stock and raising people's awareness of UXO's effects," he said.
For Soat, one of the most memorable trips to help victims of landmines was his first as president of the VNASMA to Ha Giang to offer prosthetics for victims of bombs and mines.
"I don't know if you can imagine the emotion when I saw 35 disabled people who had lost either their legs or arms that came to ask us for help," he said.
"It was very cold. Seeing one or several disabled people is not an unusual experience but seeing a line of 35 people is really haunting. Especially when I know that there are tens of thousands of Vietnamese people who have been injured by bombs and mines left from war."
Many things to do
There are an estimated 800,000 tonnes of unexploded bombs in Vietnam, with 9,200 communes contaminated by ordnance, accounting for 21 per cent the country's area, according to Soat.
"There are many things to do. When I hear news about an accident caused by UXO, I feel hurt and worried as it's our responsibility," Soat said.
The explosion of an old bomb in Ha Dong District, Hanoi, in 2016 killed four people, injured many and shook society.
Soat said he's pained that such accidents still happen in the capital because of a lack of awareness.
"We have not fulfilled our duty to educate the people on how to handle unexploded ordnance left over from the war. In the capital, people still don't know how to tackle UXO, how about people in the rural and remote areas? The question makes me ponder."
"We have told ourselves to do more in our mass communication campaign to help people handle such a situation," he said.
Soat reckons education has to start with children, as most adults are often too busy to teach about UXO.
"Last year, we released a cartoon series to publicize the danger of UXO and how to tackle UXO, the method really works as it received the attention of children. They will tell their parents about the information they get from the cartoon and they can protect themselves from UXO."
"The VNASMA plans to carry out more education, vocational training, resettlement support, and community integration in areas severely contaminated with UXO in 2020 and beyond," Soat said.
"We have also received support from former US pilots who were our enemies during the war in the northern Vietnamese airspace, such as Charlie Tutt, head of the US veteran pilot delegation, and American Legion National Commander Charles E Schmidt."
Soat revealed that Vietnamese and US veteran pilots have met several times to discuss how to support Vietnamese war victims through an official US government programme.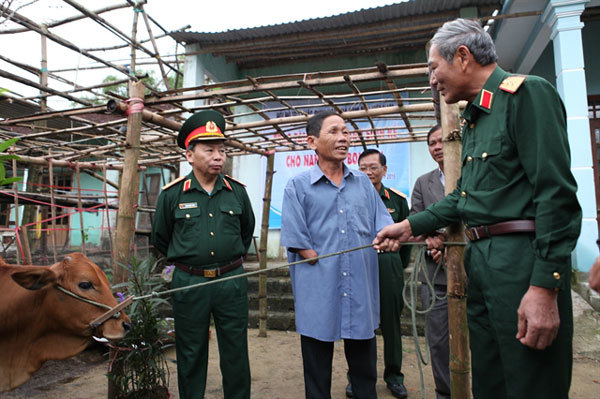 LIFE ON THE FARM: Lieutenant General Nguyen Duc Soat (right) handles a cow for a victim of landmines. Photos courtesy of the VNASMA

Pham Thi Tan, vice chairwoman of the Red Cross Association of Ha Giang, said building houses and offering vocational guidance were really meaningful and necessary for war victims. However, she said raising awareness of the people and clearing the land were the most important work.
"In the future, we expect that the VNASMA and the International Red Cross and Red Crescent will help eliminate the UXO, it's really a big campaign that we need the help of international experts in finance and technique," she said.
Nguyen Van Hoi, director of the Department of Social Insurance under the Ministry of Labour, Invalids and Social Affairs, said he highly appreciated the work of the VNASMA.
"Together with the support and policies of the Government, the VNASMA has helped many victims of landmines and gathered other organisations involved in the work," Hoi said. VNS
Minh Thu