Vietnam has seen a sharp increase in school violence, which has physically and mentally affected students and needs to be curbed quickly before it gets out of hand, according to experts.
School violence cases increase by 10 times within 10 years
Experts condemn school violence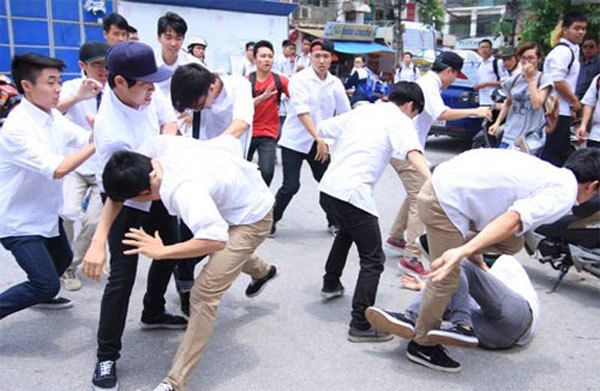 Illustrative image -- File photo
In late March, a ninth grader in northern Hung Yen Province was assaulted by five of her classmates. She was stripped naked, tossed onto the ground, kicked and punched in the face.
A few days later, an eighth grader in central Nghe An Province was reportedly seriously beaten by five other students.
According to a joint survey by the Ministry of Public Security and the Ministry of Education and Training, there were 18,571 cases of school violence from 2011 to April of 2018.
School violations were not only committed by students but also by some teaching staff. The survey shows that 0.77 per cent of the school violence involving teachers (equivalent to 251 teachers) and 0.5 per cent of the violence committed by school management officials (or 163).
In the first three months of 2019, some 310 cases of school assaults were reported, mostly at secondary and high schools, according to the Ministry of Labour, Invalids and Social Affairs.
Bui Van Linh, deputy head of the Ministry of Education and Training's Student Affairs, said some cases of violence were serious, affecting the students' physical and mental wellbeing and causing concern among the public.
He attributed school violence to negative effects of the market economy and integration as well as the development of information technology and social networks.
Rapid changes of students' psychology, lack of parental care, ineffective management of some localities and schools also contributed to school violence as well as low capacity of a number of teaching staff, he said.
Schools still paid less attention to teaching students life skills while there was a lack of close co-operation between schools, society and families, he added.
International experience
Chairman of the Department of Educational Sciences at the Ha Noi National University's University of Education Tran Thanh Nam said school violence is a global issue.
According to a report by the UNICEF in 2017, the number of children and adolescences who were victims of school violence reached 246 million worldwide.
A survey conducted by the Plan International and the International Centre for Research on Women in 2015 in five countries, including Cambodia, Vietnam, Indonesia, Pakistan and Nepal, found that an alarming seven out of 10 students had suffered violence at schools.
In a bid to reduce those figures, many countries started initiatives to handle this issue, according to Nam.
The Republic of Korea issued a law on school violence prevention and control in 2014 and Sweden issued the Law on Anti-discrimination and the Law on Education which banned all kinds of violence and discrimination in schools.
Vietnam can learn from international experiences including improving students' critical thinking and defence skills and organising school-based intervention programmes for students at risk, according to experts.
Nguyen Van Hoa, CEO of Nguyen Binh Khiem High Quality School in Hanoi, said one of top solutions to end school violence was to increase the teaching of life skills and life values for students.
"From our school's experience, the teaching of life skills and life values over the past eight years helps to change completely our approach and ways to deal with school violence. Teachers deal with such issues better, the school environment becomes friendlier and students feel happier at school," he said.
It was also necessary for teachers to change themselves, renew and adapt, he said. Teachers should strive to not only be an educationalist but also a psychologist.
Dang Hoa Nam, director of the Department of Children Affairs under the Ministry of Labour, Invalids and Social Affairs, said it was also important to increase education laws as well as defence and intervention skills for teachers, students and parents.
The Ministry of Education and Training should implement positive discipline method or discipline without tears for schools specialising in training teachers, he said, adding this method has been applied by many countries.
Viet Ha
VNS