Despite a decade-long push to prevent buses stopping at unauthorised pick-up points, the problem is still a major concern in Hanoi.
Buses cancel routes, claiming unhealthy competition from 'limousine' services
Southern areas 'get serious' about illegal buses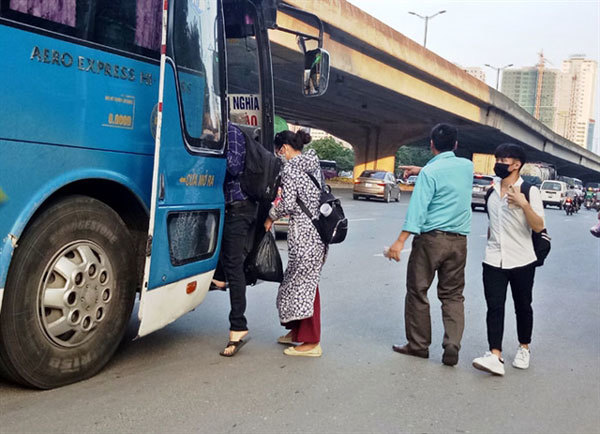 A bus illegally picks up passengers in Hanoi's Khuat Duy Tien Street. — Photo kinhtedothi.vn
Now experts have warned the authorities that they must take comprehensive and strict measures to curb the problem, and punish buses that break the law.
Nguyen Van Thanh, former chairman of the Viet Nam Automobile Association told Kinh tế&Đô thị (Economics&Urban Affairs) newspaper that illegal bus stops in the city has been a major problem for many years.
He said despite efforts by traffic police, the problem still exists around the capital, causing major traffic congestion.
In front of Thang Long Number One Apartment Building in Nam Tu Liem District, commuters were spotted waiting for buses.
Another illegal stop was located nearby in Tran Duy Hung-Khuat Duy Tien intersection with taxi cabs and motorbike drivers waiting to collect fares of people who disembark.
During rush hour, buses spent several minutes dropping off passengers, causing serious traffic problems.
Unregistered bus stops could also be found in Pham Hung and Pham Van Dong roads. At least four stops were found along the roads after 10pm during checks on a single day last month.
Two stops near Mai Dich Overpass and Vietnam National University were the most crowded and buses were moving slowly along Tran Binh, Nguyen Hoang, Dinh Thon and Thien Hien streets to pick up passengers.
In the early morning, more buses were gathered along the route to collect passengers. At 6am on May 23, a long line of buses running from Hanoi to Thai Nguyen, My Dinh to Mong Cai, and My Dinh to Tuyen Quang were moving and even stopping to wait for passengers although the regulated speed for the route was 30km per hour.
Ineffective efforts
In reply to press inquiries, leaders of Cau Giay and Nam Tu Liem districts' traffic inspectors said they regularly patrolled the area.
Phan Anh Tuan, head of Cau Giay District's Traffic Inspection Team, said they knew the two illegal bus stops in the district and had sent police to clear them up.
Tuan said he would examine the situation and mobilise more police to curb violations.
Hoang Ngoc Duc, head of Nam Tu Liem District's Traffic Inspection Team, said the team had conducted regular inspections along the routes.
Duc said Pham Hung Road is located between Cau Giay and Nam Tu Liem districts meaning police officers from both districts had to work together to stop the problems.
Thanh, former chairman of the Viet Nam Automobile Association, said illegal bus stops have existed for a long time as some agencies turned a blind eye to the problem.
"Each bus has its own black box recording device, and all of its activities have been recorded and can be traced. There's no way the management authorities are not aware of their violations," he said.
Nguyen Xuan Thuy, a traffic expert, said a comprehensive plan must be put in place to solve the problem.
Thuy suggested harsher penalties should be applied to those who flout the law.
He said traffic police, traffic inspectors and the management boards of bus terminals need to work together and bus drivers must be committed not to pick up passengers outside the designated areas.
Experts also said measures to simplify procedures for buses to enter or get out of the bus stations and improve the quality of services inside stations needed to be implemented soon.
This would attract both buses and passengers to use the proper pick-up points, they said.
VNS