Experts have pointed out the difficulties to carry out Hanoi city proposals to open separate lanes for public buses.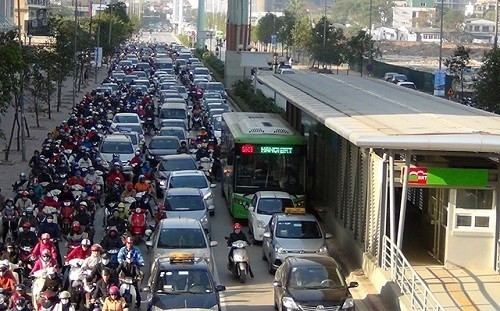 Congestion in Hanoi
Chairman of Hanoi People's Committee Nguyen Duc Chung has issued a series of solutions to meet the public transportation goals in 2020.
According to the plan, in order to encourage more people to use public buses, the authorities and firms must improve services and make the bus more reliable.
But in reality, the buses have to share lanes with other vehicles.
One of these solutions is to open more separated public bus lane on some streets like Nguyen Trai, Giai Phong and Dai Co Viet.
However, many people have pointed out various difficulties and worry that it may fail like the separated lane for BRT buses on Kim Ma-Ha Dong route.
Vu Anh Tuan from Hanoi University of Transports and Communication said the authorities must consider many things in order to open an exclusive lane.
"Exclusive lanes can only be opened on streets that are more than 34 metres wide so only main streets meet the conditions," he said.
Hanoi only has a 1.3km of exclusive bus lane on Yen Phu Street. The BRT buses also have their own bus lane but it is still encroached by other vehicles, especially during rush hours which prevent the buses from going at their fastest speeds.
Nguyen Trong Thong, chairman of Hanoi Public Transports Association, said passengers would only choose the fastest means of transport and public buses can only attract passengers when they are more reliable than personal vehicles. That's why exclusive bus lanes were important.
"The authorities should use dividers to prevent other vehicles from encroaching upon bus lanes and the police should apply strict punishments on violators," he said.
Dinh Thi Thanh Binh from Hanoi University of Transports and Communication supported the separated bus lanes but also raised concerns about Hanoi's infrastructure, public habits and vehicle density.
The authorities must have a synchronised plan in order to make this work.
VOV/Dtinews

The People's Committee of Hanoi City is mapping out measures to develop public transport, including a plan to put electric buses into service during the 2021-2025 period.

Hundreds of old people from 60 to 80 years old have queued outside of Thuy Loi University in Hanoi in order to apply for a free bus pass.

Some 300 shelters will be built at public bus stops in Hanoi's 17 outlying districts and Son Tay town.