The Ministry of Construction will organise an inspection on the use and management of maintenance funds at residential buildings in HCM City and Hanoi beginning next year.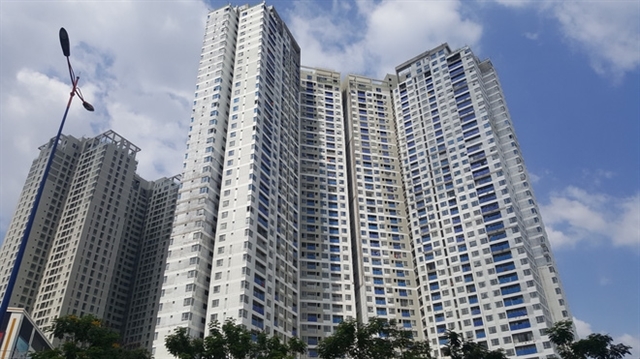 Apartment buildings in HCM City.
Construction Minister Phạm Hồng Hà has confirmed that 16 apartment buildings where disputes have occurred would be inspected in the two cities.
Since the beginning of the year, there have been 458 disputes and complaints related to the management and operation of apartment buildings, accounting for more than 10 per cent of all apartment buildings in 11 cities and provinces across the country. 
Of these, 68 disputes were about the use of management maintenance funds at apartment buildings, the ministry said. 
The misappropriation of maintenance funds worth billions of đồng at apartment buildings across the country had also occurred. 
Other problems at apartment buildings include building quality, hand-over schedules, mortgages, parking lots, fire prevention, and land-use rights and house ownership certificates, according to the ministry.
The HCM City Real Estate Association (HoREA) has recently asked the Ministry of Construction to force investors to hand over maintenance funds to apartment building management boards.
Management units of apartment buildings must prove their financial capacity and ensure that property developers hand over apartments to buyers and give buyers house ownership certificates, as stated in contracts. 
The ministry has also been asked to strictly handle the cases of developers who have failed to end mortgage contracts with banks and ensure safety for apartment buyers.
HoREA recommended that the ministry issue standards in design and the minimum area for a commercial apartment, officetels and shophouses, and serviced apartments. 
It also asked the ministry to consider a proposal to create an Apartment Law to meet development in coming years.
In Hà Nội, apartment buildings to be inspected include Bắc Hà C14 apartment complex in Hà Nội (with investment from Bắc Hà Group Company), Trung Văn resident area (Construction Joint Stock Company No. 3); Mỗ Lao urban area in Hà Đông District (Hoàng Thành Investment and Development Joint Stock Company).
In HCM City, the inspection list includes Khang Gia Tân Hương apartment complex (Tân Phú District); Hoàng Anh River View (Hoàng Anh Gia Lai Company); Khánh Hội 2 Apartments by Khánh Hội Investment Services Company; Morning Start Apartments (Green Real Estate Construction Service Company), Investco - Babylon Apartments (Hồng Hà Construction and Development Company).
According to the current Housing Law, the owner of an apartment must pay an extra two per cent of the total apartment selling price for maintenance inside the building. The fees collected by developers must be passed on to the residents' committees no later than seven days after a residents' committee is set up. 
However, a number of developers have delayed transferring the fees to residents' committees, causing disputes among residents and developers, according to the Ministry of Construction. — VNS

Many tenants at Phuc Yen Apartments in HCM City have questioned the Department of Construction's action in turning over the more than 1,400sq.m basement parking lot to Phuc Yen Real Estate and Investment JSC, the tenement's developer.

Instead of investing millions of dollars to build properties in HCM City's inner districts, real estate developers are renting properties and furnishing apartments and putting them up as mid-priced serviced apartments for rent.