The Ministry of Health (MoH) has added chickenpox, mumps and rubella to the list of infectious diseases capable of rapid transmission and potentially fatal.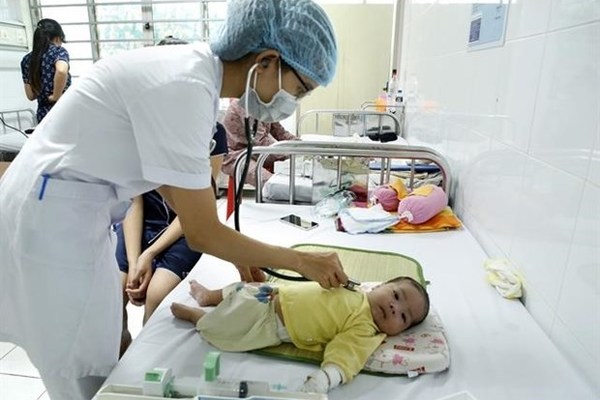 A doctor examines a child suffering from measles at the Department of Infectious Diseases of Vietnam National Children's Hospital
Under a circular which took effect from September, infectious diseases subjected to isolation include chicken pox, diphtheria, whooping cough, measles, rubella, anthrax, meningococcal meningitis, mumps and hand, foot and mouth diseases.
The move aims to prevent and limit the spread of the infectious diseases.
According to Tran Dac Phu, head of Preventive Health Department under the MoH, viruses, bacteria, hot and humid climate and poor environmental hygiene are the causes of many diseases and modes of disease transmission.
"In the past, we could control diseases that occurred in a locality, but now they can spread to other places within two hours", he was quoted by Ha Noi Moi (New Hanoi) newspaper as saying.
Diseases have hit mountains areas where they have never appeared before, he said, adding that some common diseases which usually occur in winter or spring have started arising in summer.
Chicken pox is a typical example.
Many adults in Hanoi have been infected with chicken pox this summer even though it's more common in winter and spring among kids aged between 2 and 8, the newspaper reported.
The Department of Infectious Diseases of Vietnam National Children's Hospital has recorded many cases of transmission from children who had chicken pox to their mothers.
Phu said the ministry has learned from previous disease prevention and combat efforts.
Priority has been given to early detection of infections from international border gates and at community and health care centres.
Once a suspicious case is detected, the infected people must be isolated for immediate treatment, he said./. VNA