Local authorities on Monday demanded a controversial hotel-café built along a stunning mountain pass in Ha Giang Province be shut down amid public criticism that the structure ruined the natural beauty of the area.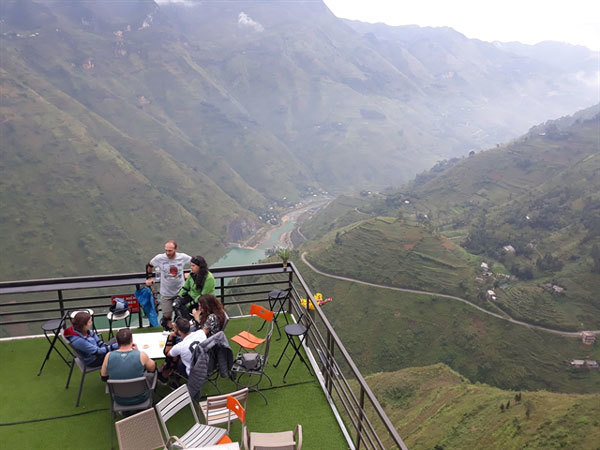 The view overlooking the Tu San Canyon from the Panorama Hostel, Restaurant and Cafe on the Ma Pi Leng Pass, Meo Vac District, Ha Giang Province. — VNA/VNS Photo Nguyen Chien
Officials from Meo Vac District People's Committee told the owner of Panorama Hostel, Restaurant and Café on Monday that she would have to temporarily close her business.
Tourists, however, can still visit the café as a stop-over to take pictures and enjoy the view of Tu San Canyon – the deepest canyon in Southeast Asia.
The café made headlines early in October when photos of a large cement structure standing along the Ma Pi Leng Pass spread widely online. Many netizens expressed their anger at the human intrusion on the mountain pass, which is famous for its beautiful wilderness.
Panorama opened early this year. The Ha Giang Province's Department of Culture, Sports and Tourism reported the seven-storey structure had not been granted an investment certificate and the owner had not received permission to switch land use purpose from agriculture to residential and business.
Ha Giang People's Committee Chairman Nguyen Van Son said authorities would not cover for any violations and would strictly handle those involved.
The Committee had also asked the Ministry of Culture, Sports and Tourism to help determine whether the structure damaged the surrounding scenery and environment, Sơn added.
Under public pressure, the owner on Friday painted the outer walls of the café in lush green, saying it would make the structure 'closer to nature'.
Authorities are yet to decide whether the whole building will be demolished to return the mountain pass to its original beauty.

Hoang A Chinh, director of Ha Giang Province Department of Construction said on October 4 that they would investigate the illegal project on Ma Pi Leng Mountain Pass.

Located atop Dong Van Stone plateau in Ha Giang province, the Hanh Phuc winding road proves to be an attractive destination for adventurous travelers looking to experience the area's breathtaking landscapes.
VNS