Travellers returning from Europe queue for hours as new health screening measures are introduced.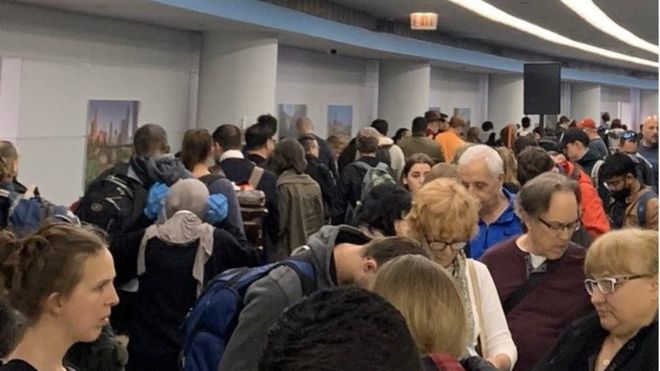 Passengers arriving at Chicago O'Hare were having to wait for hours
US airports have been thrown into chaos as new coronavirus health screening measures for people returning from Europe come into force.
Long queues formed as travellers waited for hours for the screenings before passing through customs.
The US is banning the entry of people travelling from the UK and Ireland from midnight on Monday (04:00 GMT Tuesday).
As a result, the UK Foreign Office is now advising against all but essential travel to the whole of the US.
The US has more than 2,700 confirmed cases, with 54 deaths. 
Correspondents say there is a growing sense of unease and confusion in the US, with fears of a run on hospital beds and concern about childcare as tens of millions of students are sent home from school.
In other developments:
American Airlines says it plans to cut 75% of its international flights until 6 May
Oklahoma Governor Kevin Stitt has come under fire for a tweet, since deleted, showing selfies with his family at a crowded restaurant
French voters are going to the polls for local elections which are controversially going ahead despite the coronavirus outbreak
Australia announces that all travellers arriving in the country from midnight on Sunday local time (13:00 GMT on Saturday) would need to self-isolate for two weeks
UK Health Secretary Matt Hancock says moves are being planned in the coming weeks to isolate anyone over the age of 70
What has been happening at the airports?
At Chicago O'Hare and Dallas DFW airports, passengers reported long queues as travellers returning from Europe waited to be screened as part of measures to combat coronavirus.
The US administration has imposed a ban on non-Americans travelling from the 26 European countries in the Schengen free movement zone, which will be extended to the UK and Ireland as of Tuesday.
US citizens are allowed to return but face screening.
Ruth Procopi, who has lived in the Chicago area for 20 years, returned on Saturday from the UK, where she had been visiting family.
"I arrived at [O'Hare airport] from Heathrow at about 3.30pm yesterday. It was chaos. Nobody explained anything," she told the BBC.
"And I was one of the lucky ones - I had no checked bags to try to find and because I had not been to a Schengen country, I did not have to undergo additional screening (still not sure what that was), but I didn't find out until I got to the front of this line.
"We were told there was additional screening while on the plane, but no details. We were not told anything at any stage. It took me two hours to get through."
Paige Hardy, a US graduate student returning from London, told the New York Times there was alarm on her flight to Dallas after a series of confusing announcements.
"It truly felt like an apocalyptic scenario," she said.
In New York, there were reports of a flight from Paris being boarded by customs agents wearing masks.
Acting Homeland Security Secretary Chad Wolf said his office was working with airlines to improve screening times.
Some public health experts have noted that waiting in crowded terminals could potentially lead to more people becoming infected with the virus.
On Friday, President Trump declared a national state of emergency to release $50bn (£40bn) to fight the spread of the virus. BBC