Farmers in Ben Tre Province's Cho Lach District, the country largest fruit seedling producer, are using advanced techniques to produce higher-quality seedlings, mostly for durian, jackfruit, mango and rambutan plants.
Processed vegetable production bringing high profits to companies
Vietnam exporters hope for good sales in US fruit market
Fruit exporters look forward to officially opening Chinese market
Fruit farmers strike it rich in northern Vietnam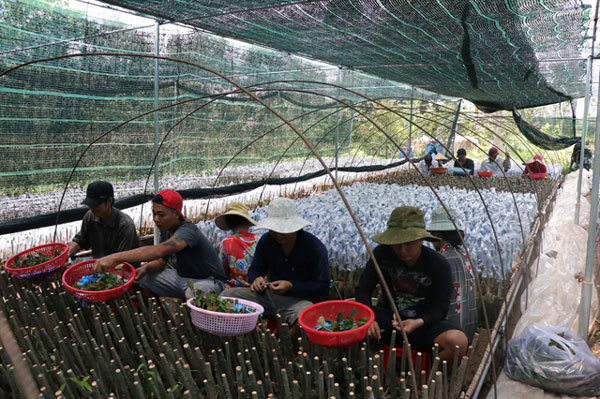 Grafting seedlings at a nursery in Ben Tre Province's Cho Lach District. — VNA/VNS Photo Huynh Phuc Hau
Le Minh Ut, from the district's Tan Thieng Commune, said that he had to cut down his mangosteen, orange and durian trees after saltwater intrusion in the 2015-16 period damaged his 4,000sq.m mixed orchard. He then began to produce seedlings as demand was high.
He now produces more than 60,000 seedlings and earns a profit of VND1 billion (US$427,000) a year, up four times compared the profits he made from fruits earlier, he said.
Many farmers in the Cuu Long (Mekong) Delta district have also turned their mixed orchards or low-quality orchards to seedling areas.
The district's seedling growing area increased 400ha in 2016 to 1,600ha with annual yield of more than 40 million seedlings, according to the Cho Lach Agriculture and Rural Development Bureau.
Bui Thanh Liem, head of the bureau, said the district's seedlings offer high profits for farmers, around VND3-4 billion ($128,000-171,000) per hectare a year.
More than 4,100 households and 11,000 labourers in the district grow seedlings, earning incomes of VND300,000-400,000 ($13-17) a day.
The district's seedlings are produced by sowing, provining (planting a vine in preparation for propagation), or grafting.
Quality
To improve the quality of seedlings, the district's agricultural officials have provided advanced techniques to farmers, including net houses, automatic irrigation facilities and provining and grafting methods.
The district has also zoned an area to develop ortet plants (the original single parent plant from which a clone derives, through reproduction or propagation), to produce seedlings. Liem said the district has helped farmers with ortet gardens that have been certified by agencies.
With these efforts, up to 80-90 per cent of the district's seedlings have met the required quality, he said.
Dang Van Mi, deputy director of the Long Thoi Agricultural Co-operative in Cho Lach District, said to improve the quality and brand name of seedlings, the co-operative has set up original ortet gardens, quality criteria and production processes.
The co-operative has also worked with seedling retail sellers to ensure stable outlets in south-eastern and northern regions and exported seedlings to Laos and Cambodia, he said.
"The co-operative has organised training courses on advanced farming techniques for members so they can produce seedlings with an even quality to meet domestic and export demand," he said.
The co-operative supplies more than two million seedlings a year to the market.
Pham Anh Linh, vice chairman of the district's People's Committee, said seedlings are one of the district's key products.
To improve infrastructure for seedling production, the district has completed embankments to prevent saltwater intrusion and high tides, and has upgraded rural roads.
The supply of seedlings could exceed demand in the future as large fruit companies complete their replanting of fruit varieties, Linh said. Market demand can also fluctuate. To deal with the issues, the district has encouraged farmers to plant according to market demand, and build value chains for seedlings.
To improve value chains, the district has established co-operatives and co-op teams, and has organised promotions to find outlets for seedlings.
The district has 12 co-operatives and more than 120 co-operative teams that produce seedlings.
VNS