Hanoi People's Court on Tuesday handed sentences to nine officials of Bich Hoa Commune for violations in land management.
Hanoi revokes 16 delayed projects for violating land law
Four senior HCM City officials charged with land management violations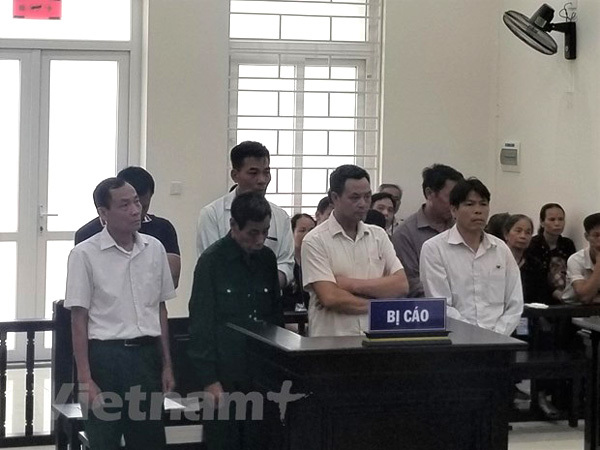 Former officials of Bich Hoa Commune at the first instance trial on Tuesday. Photo vietnamplus.vn
They have been charged with abusing their position and power while on duty in line with Article 356 of the Penal Code.
Former chairman of Bich Hoa Commune People's Committee Bui Ngoc Han received a 3-year suspended sentence while Nguyen Van Tinh, a former commune official in charge of land registration was sentenced to 30 months' probation.
Luu Ba Minh, former head of Bich Hoa Commune's Thanh Luong Village, was sentenced to three years in jail.
Bui Van Tang, former head of Thanh Luong Village and former Party Committee Secretary, Bui Van Duyet, Nguyen Van Dang, Nguyen Van Thanh and Pham Van Vinh, former heads of Bich Hoa Commune's Ky Thuy Village and former Party Committee Secretary Nguyen Huu Dung got suspended sentences ranging from 12 to 30 months.
According to the indictment, offenders took advantage of their positions to illegally sell land with a total area of nearly 10,500sq.m to 40 households, collecting nearly VND18 billion (US$775,500). The total loss to the State budget is estimated at over VND1.2 billion ($51,700).
Han and Tinh were officials in charge of land management at the locality but they had agreed with the proposal from heads of Thanh Luong and Ky Thuy villages to sell land with an aim to have more capital for upgrading pagodas, roads and other social welfare projects. The sale of public land under the management of the communal People's Committee was unlawful.
Han was responsible for the improper sale of land with a total area of over 4,700sq.m, causing damage of VND473 million.
Tinh was accused of improper land allocation with a total area of 2,500sq.m, causing a loss of VND355 million to the State budget.
As the offenders confessed and had made contributions to the locality, the Jury Council reduced their sentences.
VNS