The Ministry of Health (MoH) reported on May 16 morning that an additional 127 COVID-19 cases have been confirmed in Vietnam during the past 12 hours, breaking a 1,000-case mark in just 20 days.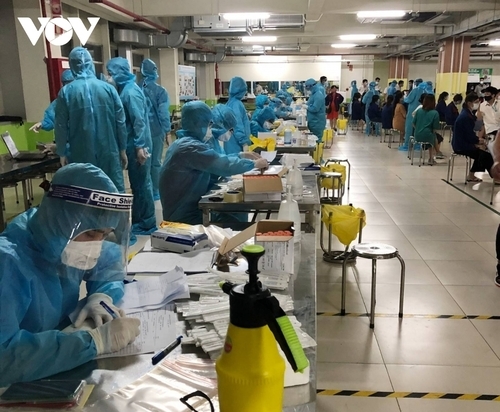 Bac Giang, which is less than 50km away from Hanoi capital, remains the country's biggest coronavirus hotspot at present as it has recorded a further 98 cases over the past 12 hours.
According to the MoH's 06.00hrs update, all the new patients are in quarantine and closely linked to the ongoing outbreaks at Hosiden company and Quang Chau industrial park which are both under a lockdown order.
They tested positive on May 15 and are now receiving treatment at Bac Giang field hospital.
Elsewhere, 23 more cases were documented in Bac Ninh, another COVID-19 hotspot, 5 in Dien Bien, and 1 in Hoa Binh.
All the new cases were recorded in quarantine or lockdown areas, thus posing no risk the neighbouring communities, the MoH update said.
Vietnam has confirmed 1,079 cases in 26 cities and provinces across the country since the virus recurred in late April.
Under mounting pressure, Bac Giang takes the lead with 314 cases, followed by Bac Ninh, its neighbor, with 217 cases. Infection numbers are expected to keep rising in these two localities which house many industrial parks.
The MoH on May 15 dispatched a contingent of professionals to Bac Giang to assist the locality with contact tracing and extensive testing.
A MoH official said approximately 900 F1 cases (those in close contact with COVID-19 patients) have been identified and contact tracing is yet over.
According to the official, Bac Giang has turned the epicenter of the COVID-19 pandemic in Vietnam as there is cross transmission between production lines and companies at industrial parks.
VOV

All three facilities of Vietnam's National Cancer Hospital, also known as K Hospital, in Hanoi were put under lockdown from 5:30am on May 7, after 10 COVID-19 infections were recorded in the hospital's Tan Trieu facility.