The Investigation Police Agency of central Nghe An province has begun criminal proceedings against the case of "illegally transporting drugs, not denouncing criminals and taking property by force" for further investigation.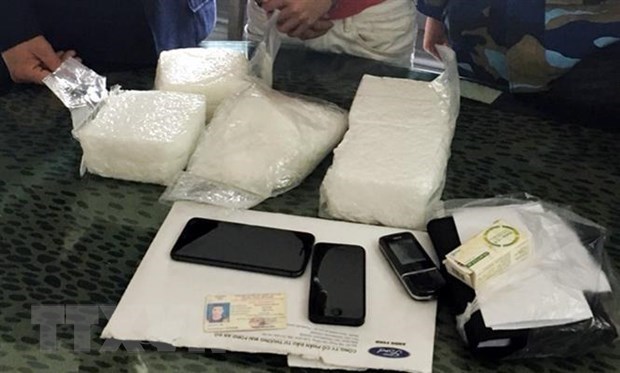 About 700kg of crystal meth were recently seized in Nghe An province
Five days ago, the local police busted a drug trafficking ring, seizing 700kg of crystal meth and arresting three suspects.
Being raided by the police, the group abandoned the drug on the roadside near a salt field in Quynh Thuan commune, Quynh Luu district in the province. Two suspects managed to escape.
Later the same day, the police checked the storage of Nguyen Thi Tam, a resident in Hamlet 1, Quynh Hong commune of Quynh Luu district, and discovered 50 cabinet loudspeakers and 50 carton packages which were used to hide drugs.
The three detainees include Nguyen Van Phu (born in 1990, residing in Nam Dan district), Nguyen Bao Trung (born in 1996, residing in Vinh city) and Vo Sy Manh (born in 1983, residing in Vinh city).
The police said three Taiwanese people were allegedly involved the case but they had left Vietnam on April 15 and 16.
Two others, namely Nguyen Duc But (born in 1991, residing in Vinh city) and Nguyen Thi Tam (born in 1977) were also summoned by the police to serve the investigation.
Smuggler of 17 heroin bricks arrested in Son La province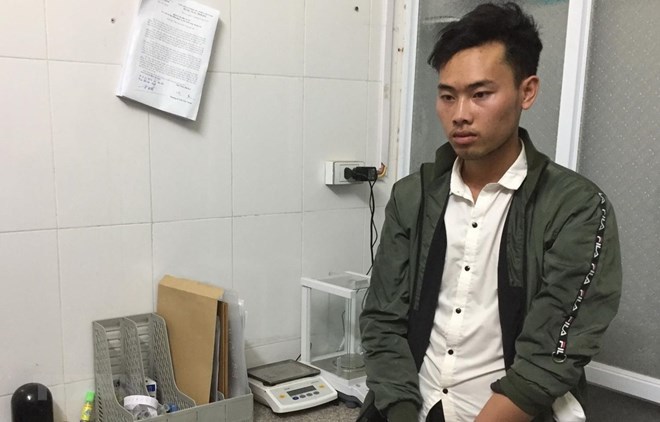 The suspect Giang A Dua
Police in collaboration with border guard and customs forces in the northern border province of Son La on April 20 caught a suspect red handed trafficking 17 heroin bricks, weighing about 6kg.
The suspect is Giang A Dua, born in 1995 and residing in Chieng Khua commune, Moc Chau district.
Police also seized a mobile phone and a number of other exhibits.
Dua admitted that he bought the drugs from an unknown man in the border area to sell for profit. Dua has been previously convicted for illegally possessing drugs.
The case is under further investigation.
Police file charges against 3 following 1-tonne meth bust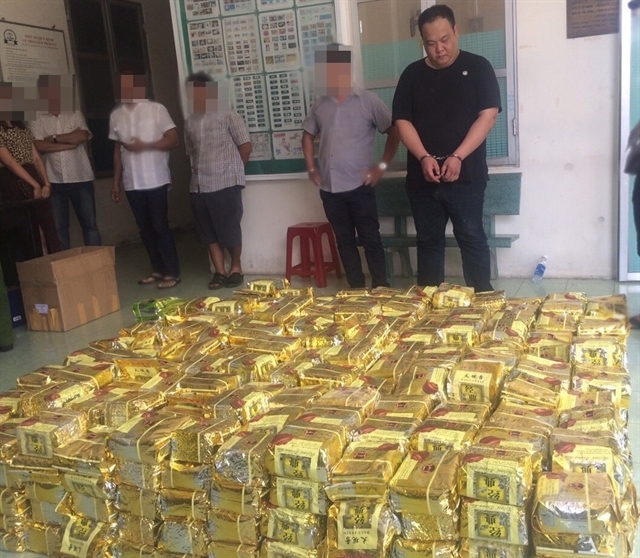 More than a tonne of methamphetamine was seized by the HCM City police, the largest bust ever, from packages purporting to contain tea on April 12.
The HCM City police are prosecuting two Taiwanese and a Vietnamese they allegedly caught a week ago with more than a tonne of methamphetamine, the largest drug haul ever in the city.
The Taiwanese men have been identified as Yeh Ching Wei, 33, and Chiang Wei Chih, 31, and the Vietnamese man as Bùi Nguyễn Huy Vũ, 38.
On April 12 traffic cameras at the Huỳnh Mẫn Đạt - Võ Văn Kiệt intersection in District 5 detected two trucks backed into each other to transfer a load and a car.
When officers approached the suspicious-looking vehicles, the truck on to which the consignment was loaded and the car quickly drove off towards the Thủ Thiêm Tunnel, where they were intercepted by the pursuing police.
The truck had a Đồng Nai licence plate and inside were 60 unusually heavy speakers packed in cartons.
The two Taiwanese were not able to provide documents for the goods and were taken into custody.
Officers checking the speakers the next day found inside each 10 sealed tea packs containing 606kg of meth.
An investigation found that Ngọc Vân Transportation Company had been hired by a Thai business to transport the consignment from Thailand to HCM City's Kelly Hotel.
The company had already delivered five speakers to a person called Bùi Nguyễn Huy Vũ in Phú Nhuận District, and police later found nearly three kilogrammes of meth and 999 grams of ketamine.
A raid of the transport company turned up 38 more speakers with 452 kg of meth inside.
The transport company said it did not know the consignment contained narcotics.
The two Taiwanese said they had been hired by a Chinese national to drive a truck from Đồng Nai to HCM City.
In all, the police seized over 1.1 tonnes of meth.
Large quantities of drugs have been caught in Việt Nam recently.
On April 17 Nghệ An Province police found 23 bags containing over 700kg of meth lying on National Highway 48B. They found in a warehouse 10 kilometres away 50 speakers which had been used to transport the drugs.
Two days before that, in the province's Vinh city, police seized around 600kg of meth and 40 packs of heroin also stored in speakers.
In March 1.1 tonnes of meth transported from the Golden Triangle were seized in Hà Tĩnh, Quảng Bình and HCM City, and seven people, including kingpin Wu He Shan, a Chinese national, were arrested.
The narcotics department subsequently linked this and the one in Nghệ An with a Taiwanese trafficking ring.
It said many suspects had been identified in Thailand, Laos and Malaysia.
VNA