Le Thi Thuan and her family were indescribably happy when her father's surgery was successful.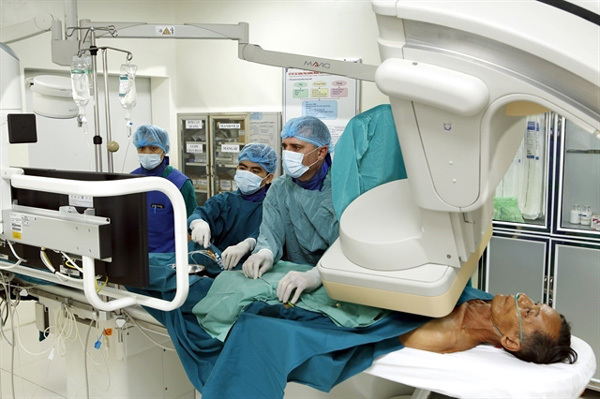 Doctor Peter Martinez Benitez (centre) conducts a surgery together with Vietnamese doctors. — VNA/VNS Photo Duong Ngoc
Thuan's father, Le Huu Hung, 68, from Hoan Lao Town, Bo Trach District, the central province of Quang Binh, received surgery to remove a colorectal tumour on October 7 at the Vietnam-Cuba Dong Hoi Friendship Hospital in the same province.
The three-hour surgery was led by Alfredo Garcia Mirete, a Cuban expert on tumours with 29 years of working experience.
Thuan said that at first, her family intended to get an examination at the Vietnam-Cuba Dong Hoi Friendship Hospital only, and then move to the Hue Central Hospital, which is about 200km from her house, for surgery as they believed it would be better.
Then Cuban doctors from the Vietnam-Cuba Dong Hoi Friendship Hospital gave her family careful consultancy and examination. They decided to have surgery here.
"Since then, we saved a lot of time and expenses for travel to Hue," said Thuan.
On the afternoon of October 7, Dinh Xuan Cua, 72, from Minh Hoa District, suffered from coronary thrombosis and was moved from a district hospital to the Vietnam-Cuba Dong Hoi Friendship Hospital.
Doctor Peter Martinez Benitez, who has 15 years of experiences in the cardiovascular sector, and his colleagues successfully operated on Cua.
They are only two out of thousands of surgeries conducted by Cuban experts at the hospital.
Thanks to the experts, local residents feel more secure while being treated in Quang Binh Province.
Duong Thanh Binh, director of the hospital, said seven Cuban doctors working at the hospital were experts in different sectors such as cardiovascular, paediatrics, tumours and digestion.
During the past two years, the doctors have helped get local residents high-quality health examination and treatment in their hometown.
The hospital now has nearly 1,200 beds, more than 700 workers and manages more than 14,000 residents with health insurance cards. Each day, doctors of the hospital give health examinations to 500-600 patients.
Director Binh said that in recent years, the hospital invited Cuban doctors to work at the hospital.
"Thanks to outstanding Cuban experts, local residents believe in treatment in the province, instead of going to Hue, HCM City or Hanoi like before," said Binh.
The experts also gave training and technical exchange to Vietnamese doctors to improve the quality of health services in the area.
Binh said the hospital planned to propose the Cuban Ministry of Health assign two more experts to work in Vietnam, and extend their term from two years to three years so they would have more time to give professional support to the hospital.
On September 17, 1973, late Cuban President Fidel Castro visited Quang Binh Province and decided to build a hospital for local residents.VNS
Thuy Giang