The Government Inspectorate has released a report on land use and conservation-related violations on Son Tra Peninsula, which implicates authorities in Da Nang.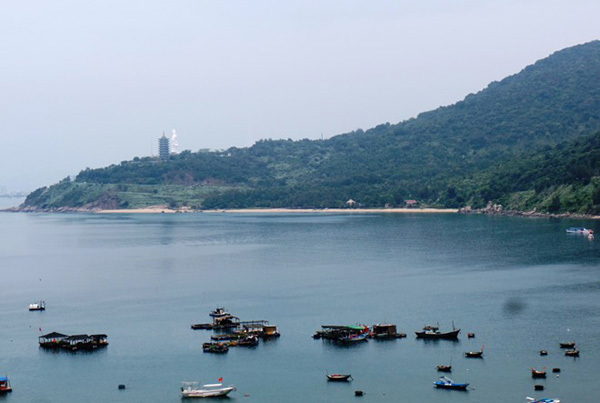 A view of Son Tra Peninsula in central Da Nang Province. — Photo thanhnien.vn
Lying about 10km from the city, Son Tra is made up of a natural forest ecosystem, sea and urban settlements, which boasts valuable biodiversity and tourism potential, in addition to its East Sea-facing strategic location with regards to national defence and security.
The area has been designated a national tourism site, the Government Inspectorate noted in its report, but Da Nang had not approved a plan to ensure the preservation and sustainable development of the nature reserve.
Authorities had also failed to carry out a thorough assessment of the area's biodiversity, or report on the status of several endangered species that populate the area. Up to 43 flora and 22 fauna species found in Son Tra were included in Vietnam's Red Data Book.
According to the report, Da Nang authorities had not outlined proper zoning for Son Tra to establish which areas were under protection, which zones should be left for eco-regeneration, and where it was allowed to tourism, service facilities and administrative buildings.
Of the 18 projects on the peninsula that were approved by Da Nang's People's Committee, nine covered 163.32ha of natural forest but the authorities had not allocated protection plans for these areas.
Da Nang asked for approval from the Ministry of National Defence and the 5th Military Region Command regarding two projects. One was granted approval but the other did not receive an official answer, and the People's Committee went ahead and rented out the land for investors to go ahead with their project.
Da Nang did not ask for feedback from the defence ministry for the remaining 16 projects, the Government's top watchdog said, and the initial investigation showed there were at least seven projects that violated national defence and security.
The central city's administration had also approved three projects – Bai But tourism project, Bai Trem tourism projects, and an integrated ecotourism-aquaculture project – while the investment dossiers were still being compiled.
Local authorities had also failed to issue an official land price, which meant there was no consistent basis to determine land use fees.
Da Nang had also given discounts for land use fees on a number of projects not in line with regulations, and had not taken into account late payment penalties.
The Inspectorate rejected geographical features, including the relative isolation and ragged slopes of the peninsula, as probable causes for the mismanagement.
The projects in question started in 2003 when legal regulations relating to construction, land and investment were not stringent enough, the Government Inspectorate admitted, but it still pinned the lion's share of the blame on authorities in the city.
The agency has asked the Prime Minister to instruct Da Nang's People's Committee to find who was to blame and handle any violations.
The city was also asked to co-operate with the ministries of environment, agriculture, tourism and sports, and defence to review and adjust projects in Son Tra to make sure they conformed with existing planning related to land use, defence and security, forests and tourism.
It must revoke licences or cut off land from the offending projects.
Da Nang must also set land prices on the peninsula and seek full payment of obligatory fees and charges from the projects it approved to pay into the State budget.
The Government Inspectorate proposed that all documents that were issued wrongfully by Da Nang's People's Committee, including those approving the reduction of land use fees or allocation of land, should be annulled.

The Investigation Police Agency has proposed the People's Procuracy to lodge prosecution against 21 people involved in the high-profile corruption case relating to Phan Van Anh Vu (alias "Vu Nhom").  
VNS