Having fished offshore since he was a young man, Le Van Thanh has always had a strong connection to the sea.
Ancient coracles provide link to the past
Da Nang - An Asia-Pacific pearl glows in Vietnam
Chartered flights carrying Indonesian tourists to Danang to be launched in June
Le Van Thanh will miss the sea if he had to live far from it. — Photo thanhnien.vn
His boat – a small, round coracle – is almost like a friend.
Thanks to the coracle, Thanh, from Thanh Khe District in the central city of Da Nang, is able to support his family of three children.
Thanh wasn't aware of Da Nang's policy of reducing the use of coracles, but he has seen many local fishermen hang up their nets to find other work inland.
"I have fished since I was small and went to sea with my grandfather. If I'm far from the sea, I will miss it a lot," he told Thanh niên (Young People) newspaper.
In July 2016, Da Nang started a project to reduce the use of fishing vessels with motors of less than 20CV by 2020. This means that the coracles and their owners had to go.
Statistics by the municipal Department of Agriculture and Rural Development (DARD) showed that after two years, the city seized 130 coracles. As many as 330 seamen received financial support to change jobs with total funds of more than VND5.4 billion (US$234,700).
Despite the support, many seamen were unable to do other jobs.
Nguyen Phuc Long, 50, a resident of Thanh Khe District, said after receiving the money, many local residents stayed at home all day as they didn't know how to do anything other than fishing.
They could not adapt to jobs on the mainland.
"I don't want to live far from the sea. Although another job could offer me a better income, I didn't want to change because I miss the sea," Long told the newspaper.
Nguyen Do Tam, deputy director of the municipal DARD, said after hearing about the issues the city had temporarily halted the project to wait for new instructions from the Da Nang People's Committee.
Da Nang authorities would consider another more effective project.
Bui Van Tieng, chairman of the Da Nang Association of Historical Sciences, said that some fishermen were unable to do other jobs as they had been working at sea for their whole lives.
"The image of coracles in coastal fishing village is a common backdrop for photos, not big ships. We should use the coracles to promote tourism," Tieng told the newspaper.
Tieng believed developing tourism based on fishing villages, coracles and local seamen would be successful.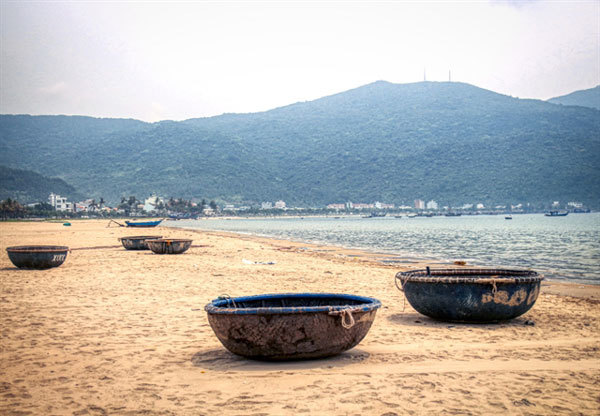 Experts believe the image of coracles will make the seaside more attractive. — Photo thanhnien.vn
Nguyen Duc Vu, head of the management board of the Son Tra Peninsula and Da Nang coast, said coracles were still used in rescue work.
Rescuers often use coracles together with modern vessels during operations.
"Every tourist is interested in the image of coracles along the seaside. In my opinion, traditional fishing villages have their own beauty," said Vu.

VNS