The central city of Da Nang opened the Hoa Phuoc-Hoa Khuong section of a ring-road project yesterday, creating a smooth connection between National Highway No 1A and No 14B to the south and east of the city.
Tasks approved to adjust Da Nang master plan
Da Nang plans 'urban area in the sea'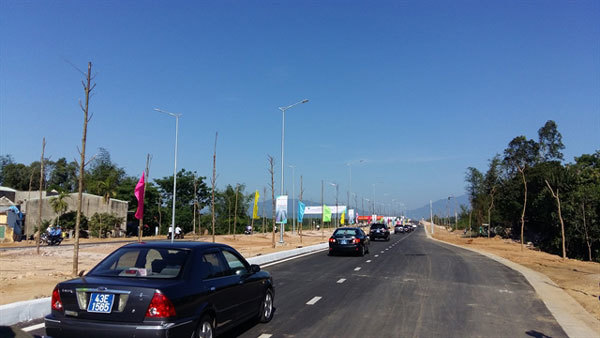 The Hoa Phuoc-Hoa Khuong ring-road opened in Da Nang yesterday connecting the south and east of the city. — VNS Photo Cong Thanh
The 7km four-lane road, which was built with total funds of VND490 billion (US$21.3 million) from the World Bank and the city's counter fund, will help ease traffic congestion in the city centre and promote links to the East-West Economic Corridor that connects Thailand, Laos, Myanmar and Vietnam.
The road, which is part of the city's sustainable development plan, will help boost development to the south of the city in a new developing urban area.
Da Nang plans to complete construction of its ring-road system in the west and south connecting National Highway No 14B and the Ho Chi Minh Trail by 2020.
The city's ring-road system will also help link the city's Information Technology Park, Hi-tech Park, La Son-Tuy Loan Highway, Lien Chieu Port and Kim Lien railway cargo station as a logistics centre for the East-West Economic Corridor.
In 2013, the World Bank agreed to provide $202 million for a US$272-million sustainable development project to help improve the city's Bus Rapid Transit network, build new roads, and revamp the existing drainage system.
In 2008-13, the WB also donated 70 per cent of the total investment of US$218.4 million for a priority infrastructure project in the city.
These projects have helped Da Nang become a more sustainable city by improving the urban environment and increasing urban mobility in a clean, safe, inclusive and energy efficient manner.
Da Nang, which is widely regarded as a being well-planned and well governed with better infrastructure than other cities in the country, has been investing much in urban development to make it a 'green and smart' city by 2025.
Last year, the 140km Da Nang-Quang Ngai Expressway – the first expressway in the central and central highlands region – was also opened to reduce travel times from Da Nang to Quang Ngai from three hours to 1.5 hours.
VNS