Da Nang City Transport Department proposed a vehicle congestion charge on October 31.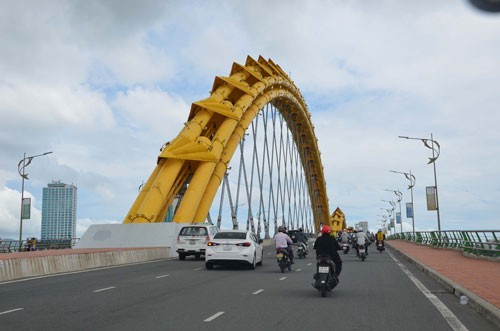 Da Nang's Dragon Bridge
The proposal was put on the table during a conference which included a congestion charge proposal from Danang Fatherland Front Committee. However, many people have opposed the idea.
According to the department, a congestion charge would help develop a modern and sustainable traffic system. Their goal is not to improve the city's budget but to better regulate the traffic as people will have to think more carefully when they travel and may opt for public transport or alternative routes.
Citizens who live on main routes which have toll booths will be given preference policies. It is expected that in 2023, the authorities will start collecting a fee on Le Duan and Nguyen Van Linh streets. In 2025, they will review the results and expand the programme to other streets like Dien Bien Phu, Nguyen Huu Tho and Bach Dang streets.
From now on to 2025, Danang authorities will collect entrance fees from cars, passenger buses and trucks. After 2025, they will collect entrance fees from motorbikes.
However, the proposal faces opposition. Many people suggested that Danang authorities should wait until the National Assembly approves a law related to congestion charges for urban areas.
Both Hanoi and HCM City authorities have suggested similar solutions but haven't been able to implement them due to legal problems.
Nguyen Hai Dang from the Danang Fatherland Front Committee said, "I think there are many solutions but why choose a congestion charge? Will the authorities be able to prove it would be effective?"
Phan Duc Hai from Danang Planning and Urban Development Association said Danang was only crowded, and did not face traffic jams so there are many alternative solutions.
He said, "First, we must limit the number of personal vehicles. For example, car buyers must make sure that they have a parking place and the authorities must plan more parking lots."
Nguoilaodong/Dtinews

With rapid urbanization, pollution caused by waste has become a threat to the sustainable development of Da Nang, considered the most livable city in Vietnam.

Authorities in Da Nang have ordered Dien Bien Construction Private Company No 1 to dismantle a part of Muong Thanh Group's luxury apartment building in Ngu Hanh Son District, which was built illegally.