The Da Nang Water Supply Company (Dawaco) on August 26 proposed the building of dams to prevent salinity and store fresh water in Cau Do River's lowerstream as an urgent responding measure.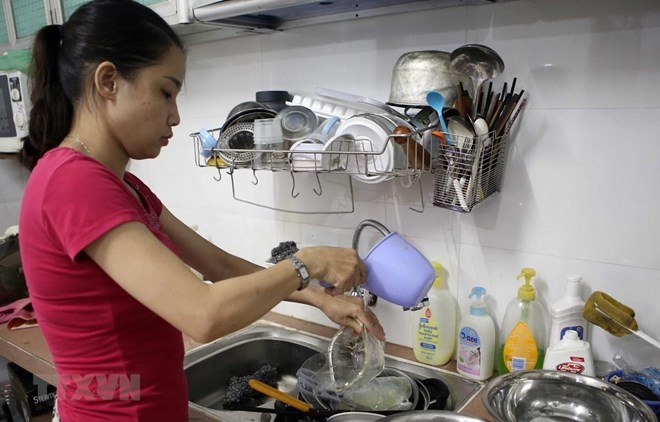 Locals in Da Nang are now having water supply in a rotary fashion
Dawaco General Director Ho Huong said that the company has prepared three stores with about 30,000 cu.m of fresh water in case the Cau Do River suffers severe salinity.
However, the reserve will meet the demand of the city for only several hours as Da Nang needs over 300,000 cu.m per day, said Huong.
According to Dawaco's statistics, at 16:00 of August 26, average salinity rate of input water for Cau Do water plant was 1,463mg per litre. As the rate exceeds 1,000mg/l, Dawaco stopped taking the water in Cau Do River and becomes dependent on An Trach pumping station which has a capacity of only 210,000cu.m per day.
According to Chau Tran Vinh, deputy head of the Department of Water Resources Management under the Ministry of Natural Resources and Environment, the central region has suffered heat waves since April. Many places reportedly had record high temperatures (some localities had temperatures of over 40 degrees Celsius).
As a result, the flow in the basins is 35-60 percent lower than the average amount of many previous years. In the face of prolonged hot weather, reservoirs are forced to increase the amount of water used for electricity generation to ensure power supply to the national grid. This causes the water level in the reservoirs to drop, with several falling below the dead storage.
The Ministry of Natural Resources and Environment has ordered localities to actively store water, efficiently use water and make plans to regulate water for the downstream areas of river basins. The ministry has also directed operators of hydroelectric reservoirs to closely work with local administrations to ensure water supply for the downstream areas until the end of the dry season in localities of Nghe An, Quang Nam, Da Nang, Gia Lai and Phu Yen. The ministry requires some reservoirs to prepare for providing water for local residents if severe drought occurs.
Vinh said that to ensure water supply for the lowland areas in this year's dry season, the ministry has urged the People's Committees of localities to ask sectors and relevant agencies to store enough water. For the river basin of Vu Gia – Thu Bon, the ministry told the Dawaco to properly regulate water and fully exploit water from An Trach dam, especially when water in the Cau Do River suffers salinity, in order to ensure water supply for residents of Da Nang city.
Moreover, the ministry required agencies to closely monitor the process of inter-reservoir operation in the central region. They had to carefully calculate and balance the amount of water to reasonably discharge in reservoirs of river basins of Ca, Ba, Tra Khuc, especially Vu Gia –Thu Bon river basin which often suffers drought and salinity intrusion.
Additionally, the department also approved a project of the People's Committee of Da Nang to use water in local hydroelectric reservoirs to supply local residents in the dry season.
Recently, the People's Committee of Da Nang has decided to approve a project on building works to improve water environment in the east of Son Tra district at a total cost of over 1.4 trillion VND (60.8 million USD) between now and 2020.
Accordingly, it will build a system of sewers to collect wastewater and part of rainwater, upgrade Son Tra wastewater treatment station (the second stage) with a total daily capacity of 40,000 cu.m during the dry season, and 100,000 cu.m during rainy season.
The city will also build a sewer to transfer wastewater and rainwater from Hoang Sa street to Son Tra wastewater treatment station, among others.
The committee assigned the management board for transportation works to carry out the project effectively with ensured quality.-VNA

Da Nang Water Supply Company (Dawaco) announced that water sources have become eight times saltier so they will have to cut supplied freshwater.  

Da Nang Water Supply Company (Dawaco) said that they would supply free water to hospitals, schools and hotels amid a water shortage.