Sunday might be a day off for most kids, but one classroom in Nguyen Hue Secondary School in the central city of Da Nang is full of students on the day of rest every week.
Students advised to improve soft skills
Vietnam in urgent need of legislation to prevent child sex abuse: experts
Comprehensive measures needed to end school violence in Vietnam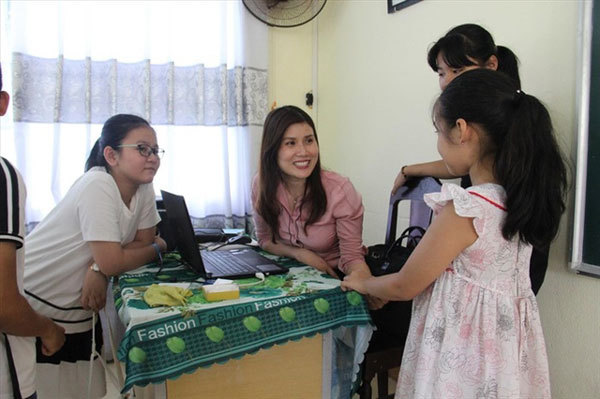 Teacher Loan and her students in a sexual harassment prevention class. — Photo tienphong.vn
In the class, the teacher showed the children four pictures of faces and asked them who could be a child molester.
The students raised their hands to answer the question.
"Child molesters could be anyone we meet," the teacher told the students.
That is one of the lessons teacher Phan Thi Thuy Loan, deputy principal of Nguyen Hue Secondary School, teaches her students to help them recognise risks of sexual harassment and how to protect themselves.
The free child sexual harassment and school violence class has been opened for almost a year.
Students have flocked to attend the class, especially after reports of school violence and sexual harassment have spread nationwide.
At first, only secondary students of Nguyen Hue School attended the class. Then more and more students learned about it and now students from neighbouring primary, secondary and high schools attend.
Loan has learned about soft skill education and students' psychology by reading, attending training courses for teachers and by interacting with her students.
"My class is only a small model for local students, especially for those who want to learn soft skills but are unable to afford classes at big centres," she said.
Loan reminded her students about the story in which a student in central Quang Binh Province was slapped in the face 231 times by her classmates and teacher as a punishment for breaking class rules.
"I want you to raise your voice. In cases of violence, please report it to your teacher, family or people around you. If you see other people behaving aggressively to you when you have done nothing wrong, you must also raise your voice instead of suffering," Loan told her students.
Ten years ago, one of Loan's students stabbed a classmate in the face over an argument. It later turned out the boy had been raised in an abusive household, as his father would often drunkenly beat his mother.
Today, Loan is happy to say her student has become a helpful person who takes part in social activities and does good things for others thanks to her help.
In telling her students that story, Loan said: "People who commit violent actions are suffering from hurt and can't control themselves at certain times, especially when they are still young. They are not bad people. You should learn to understand them and help them instead of staying away from them."
She said not only children but many parents are not fully aware of the signs of sexual harassment and think only raping is a serious matter.
Loan not only teaches students theories but also shows them photos and videos to equip them with prevention tips.
The most challenging task is to select proper language, images and teaching methods relevant to students' ages, for example, easy-to-understand words for children but talking about the topics straight to the point with secondary and high school students.
There is one special student who never skips her class.
"I take my son to the class because I also want him to learn, although I have taught him those things at home.
"It is my success when I can change someone or my lessons have positive impacts on them," Loan said, adding that she regards all of her students as her sons and daughters.
Not only teaching students in the classroom, Loan has invited local police officers and martial art trainers for self-defence classes.
And she has succeeded in making changes.
Thai Cao Tan, a parent of Hai Chau District, said her child has changed a lot thanks to soft skills of time management, communication and how to live safely and confidently that Loan taught her.
Hai Trieu, a seventh grader of Le Loi Secondary School, said she did not usually ask her parents about sensitive issues during puberty.
"I did not know who I should talk to so I keep silent."
Since attending Loan's class, she has become more open to her parents and realised that her parents are ready to listen to her problems.
Truong Anh Bao Tran, a sixth grade student of Nguyen Hue School, said that she has learned how to protect herself when facing child molesters and violence. She and her younger sister also teach their friends.
VNS