New daily regular air routes connecting Da Nang City with Taiwan, Hong Kong and Singapore start from December 12, offering more options for local and foreign tourists as well as businessmen travelling in the New Year.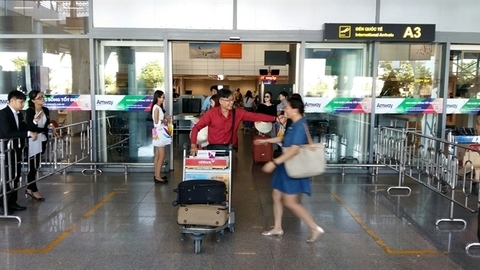 Tourists are seen at the Da Nang International Airport. Three newest daily direct flights will be operating in the city this December.
The city's tourism department said at a meeting last week the new daily air routes would promote tourism, investment and trade among cities in the region and the central city will be a favourite destination in the future.
Representative of the budget airline, VietJet, in central region, Tran Hoang Linh said it will launch two daily direct routes from Da Nang to Hong Kong and Singapore in December.
He said Vietjet, which are operating eight regular flights from Da Nang to other domestic and overseas airports, will debut its direct flight from Ha Noi to New Delhi, India this month.
According to the Da Nang International Airport Administration, Eva Air will start its daily Da Nang-Taipei from December 19.
More direct flights have been planned linking Da Nang with South Korea, Indonesia, India, Australia and Russia in 2020.
The central city sees 48 international air routes with 462 flights per week, while 11 domestic routes operate with 665 flights in a week.
In a report, Da Nang hosted 8.7 million tourists in 2019, and the city plans to host nearly 9 million tourists in 2020.
South Korean and Chinese visitors were the largest with 54 per cent of total foreign tourists visiting Da Nang. — VNS

The Vietnam Air Traffic Management Corporation (VATM) held a ceremony on December 7 to welcome the flight coded VN216 from Tan Son Nhat airport to Noi Bai airport, the 900,000th safe flights operated by VATM in 2019.

Vietnam Airlines has banned the transportation of lithium batteries and electronic devices using lithium batteries on all its flights from November 15 to ensure flight safety.