The strange odour in domestic water detected by residents in some districts west of Hanoi was due to an increase of chloride used to disinfect source water from the Da River.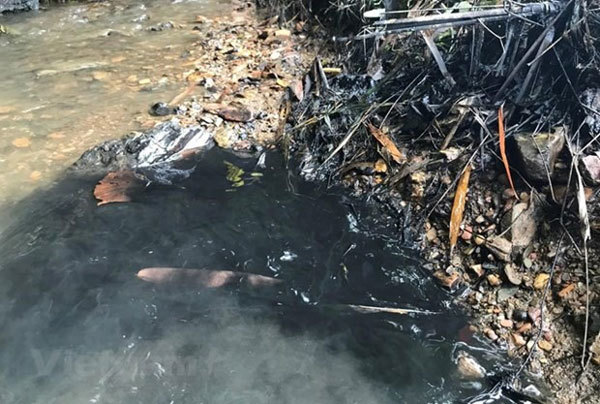 Oil scum continues to be detected at Dam Bai Lake, near the entrance of the Song Da Water Investment JSC's water treatment system on October 8. — VNA/VNS Photo
Director Nguyen Van Ton of the Song Da Water Investment JSC made the statement on Monday regarding reports of the odour made by residents in the capital city's outer districts of Ha Dong, Hoang Mai, Nam Tu Liem, Thanh Xuan on October 8.
Water used at households in these districts was reported to smell like "burnt plastic".
By Sunday, the smell had subsided, but local residents remained sceptical and did not feel confident using the water at home.
Officials from the Hanoi People's Committee and the Ministry of Environmental Resources and Environment on Monday requested clarification of the situation from the Song Da Water Investment JSC, which was in charge of supplying water for these households.
Director Ton said the smell was caused by a water disinfection technique using chloride conducted in its water factory.
"We were trying to meet the Ministry of Health's new standards for domestic water quality and increased the amount of chloride used in disinfecting source water," he said.
After receiving complaints from local residents, on October 10, the company had reduced the amount of chloride used in water disinfection from 0.8mg per litre (in compliance with the health ministry's new requirements) to the previous level of 0.3-0.5mg per litre, he added.
"The water disinfected with the new level of chloride is still safe for domestic use," he said.
Regarding detection of oil scum near the entrance of the company's water treatment system also on October 8, Ton said on October 9 the company has closed its intermediate storage tank to stop receiving water from the Da River, and assigned staff to examine the scum.
"The scum was discovered to be coming from the Bang stream to the Dam Bai Lake, from which water flowed to the company's treatment plant," he said.
Vu Duc Toan, deputy director of the company, said the company had applied measures to prevent the spread of the oil scum.
It had also reported the situation to local authorities for further investigation, he said.

People in some areas in Hanoi have voiced concerns over strange-smelling tap water.
VNS