The Ho Chi Minh City administration is scrutinizing a plan to shift goods transport from the daytime to the nighttime to ease traffic congestion in the city center.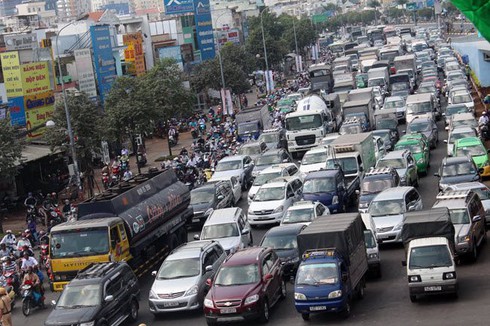 Some have opined that a ban on daytime transport trucks in the inner-city districts of HCMC should have been imposed 
Transport firms are concerned that such a ban may exert a bad impact on their business, but others deem it as feasible and beneficial to Saigonese as a whole.
Although the HCMC authorities have taken several measures to mitigate traffic jams in the inner districts, the problem has persisted, if not worsened. At a working session with the Department of Transport on February 11, Vo Van Hoan, vice chairman of the HCMC People's Committee, requested the department to consider a prohibition of transport vehicles, including light trucks, in the daytime and gradually shift the goods transport to the nighttime.
Such a ban is now being considered by the HCMC Department of Transport. It is still too early to affirm whether the prohibition is carried out, or how it will be implemented, if any. However, many transport enterprises have said such a ban will meddle in their operations.
According to Do Xuan Phu, director of Minh Lien Transport Co., most customers want their goods to be delivered to their premises in the daytime so that they can handle, check and issue invoices easily.
Meanwhile, nighttime is the time off work for many employees. In addition, an obstacle to nighttime cargo transport is that drivers cannot work from night to night because of their health, and current regulations do not allow them to drive more than four consecutive hours.
Therefore, more drivers and assistants will be needed for nighttime transport, and costs thus increase as pay for a nighttime shift is double that for the daytime.
"The currently effective goods transport ban during rush hours has been a source of difficulties for enterprises, let alone a daytime ban," says Phu. "Relevant agencies should think about building more roads or other solutions because a ban will adversely affect the economic flow."
Some have opined that a ban on daytime cargo transport, if any, will also significantly impact firms in other economic sectors in the inner districts. Pham Minh Giang, a restaurateur on Nguyen Dinh Chieu Street in District 3, says his restaurant now receives all ingredients from suppliers in the morning.
Therefore, the daytime transport ban will have a bad impact on business, Giang says. Moreover, it is hard for food suppliers to shift their routine goods transport from daytime to nighttime. Last but not least, the restaurateur has to pay allowances for those assigned to stay to receive ingredients delivered at night.
Le Van Tien, vice director of the company in charge of Hoc Mon Wholesale Market, says vehicles are now transporting agricultural products from other localities to the market mainly at night, and traders will wholesale the products for retailing at other markets around the city in the morning.
The imposition of a daytime cargo transport ban will thus badly affect the operation of wholesale markets, Tien says.
If the HCM City administration imposes the ban on daytime cargo transport, enterprises must devise suitable schemes. Giang, the restaurant manager, says he has plans for ingredients to be transported to a place in a suburb and will then be carried to the restaurant by motorbike.
As this short-term solution is costly, for the long run, Giang says he will buy more freezers so as to be able to preserve more materials and to cut transport costs. However, frozen foods will not be as fresh as expected, he adds.
In 2016, the HCMC Department of Transport introduced a ban on trucks transporting goods on Truong Son Street to ease traffic congestion around Tan Son Nhat International Airport. The prohibition affected many firms transporting cargo to and from the airport, thus delaying goods delivery time and increasing transport costs. The department then had to adjust the prohibition time.
Enterprises need to change
Following the HCMC authorities' request of the ban, city-dwellers and economists have expressed their support for such a move which they said should have been in place for the sake of the entire society.
Dinh The Hien, an economist, says most streets in the central business district are so narrow that they can be blocked by a single truck parked for cargo handling. Although he admits that banning daytime goods transport will impact fresh products and be costlier for enterprises, he insists that nighttime goods transport will help cut fuel costs and facilitate goods handling as traffic is much thinner at night.
Hien says therefore the increase in nighttime goods transport cost, according to many transport firms, may not be as high as that in the daytime given the current traffic jams, pollution and longer waiting time. "In case of cost increase because of nighttime cargo transport, companies should recalculate their production costs instead of raising prices," he says. "The ban on goods transport in the daytime should have been imposed earlier for social benefit."
The scheme to ban goods transport in the daytime was mentioned by Vice Chairman Vo Van Hoan at recent working sessions with the Department of Transport. According to Hoan, a daytime goods transport ban may affect businesses because of soaring costs; however, banning daytime cargo transport and shifting to the nighttime will help ease traffic congestion and reduce fuel costs and waiting time.
"While coming up with a prohibition scheme, whatever affecting relevant firms will be scrutinized carefully to chart out a specific implementation road map to minimize adverse effects on companies' operations," Hoan told delegates at the working session with the HCM City Department of Transport. SGT

The HCMC government has floated a plan to compel cargo trucks to switch to operating at night only in inner-city areas to reduce traffic congestion. 

Many shops and restaurants in Hanoi and HCM City have closed or are looking for new owners due to Covid-19 fears.