When a finished urban railway in Hanoi is put into service remains unknown but Vietnam must pay a US$6.5 million debt for the project this year to the Chinese side,  according to the local media.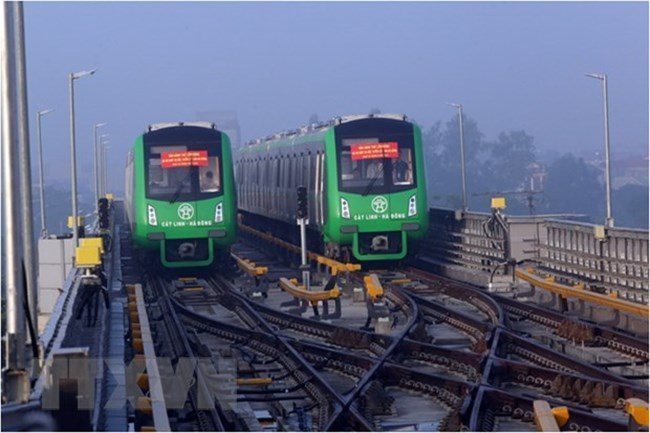 Two trains make a test run on the Cat Linh-Ha Dong urban railway. Vietnam has to pay a debt totaling more than VND152 billion (US$6.5 million) this year to the Chinese side for the project 
The Ministry of Transport has informed the prime minister of the debt payment obligation. The ministry had been earlier approved to use Vietnam's reciprocal capital to pay off foreign loans for the Cat Linh-Ha Dong rail line and related expenditures during its execution.
Vietnam had already paid VND398 billion to the Chinese side.
According to the Ministry of Transport, the project management board has proposed plans to extend the debt payment and adjust the investment in the project. However, the rescheduling of the debt payment has faced procedural obstacles, while the investment adjustment is not in line with the State Audit of Vietnam's conclusions.
As the loan of US$250 million borrowed from the Export-Import Bank of China falls due, the Ministry of Transport has proposed the prime minister direct the Ministry of Finance to extend the principal payment period or ask the State Audit of Vietnam to remove the procedural hurdle.
The ministry has also proposed the Government allow the allocation of capital to pay off other loans for the project.
Work on the Cat Linh-Ha Dong urban railway project started in 2011. Vietnam has signed three agreements with China to borrow nearly US$670 million to fund the project.
The 13.05-kilometer Cat Linh-Ha Dong urban railway, which has 12 stations and one depot, was operated on a trial basis in September 2018. However, it has yet to be put into commercial operations due to the unresolved problems with the paperwork. SGT

Hanoi People's Committee have proposed to delay the Nam Thang Long-Tran Hung Dao Urban Railway Project until 2027 after proposing increased project investment.  

A metro project connecting Nhon area in Bac Tu Liem District and Hanoi Railway Station is set to have initial dynamic tests from September.