The dengue fever season is peaking, with a sharp rise in incidence of the mosquito-borne disease in HCM City, the Cuu Long (Mekong) Delta and the south-east, according to preventive medicine centres.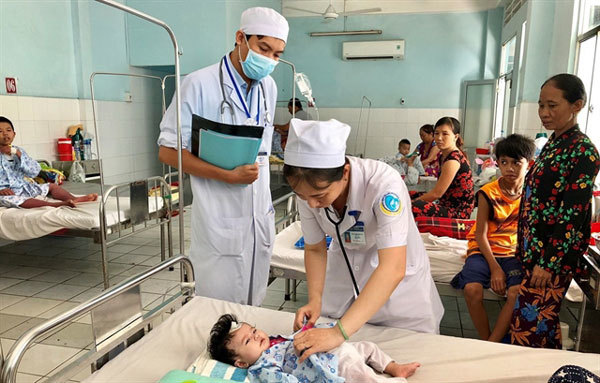 Patients with dengue being treated at the Hospital of Obstetrics Gynecology and Pediatrics in the Mekong Delta province of An Giang. — VNA/VNS Photo Thanh Sang
The number of cases in HCM City last month was 7,833, up 18 per cent from July, the HCM City Centre for Disease Control and Prevention said.
In the first eight months of the year, the number of cases was up 142 per cent year-on-year to 39,814.
More than 900 potential mosquito breeding habitats have been identified in many districts, but most of them in the outlying districts of Hoc Mon and Binh Chanh.
An upsurge has also been reported in the Mekong Delta, where there have been eight deaths due to the disease this year.
The Can Tho City Paediatrics Hospital has treated 876 patients this year, 43 per cent higher year-on-year than in 2018.
The last three months saw a sharp rise to 335.
The number of people hospitalised with dengue has been on an upward trend, and there have been many severe cases, Bui Hung Viet, head of the hospital's dengue fever department, said.
Poor public awareness of the serious complications caused by dengue and prevention measures remains a big challenge, he said.
Many people think that only young children get the disease and that they become immune if they get it once, he said.
In Tien Giang Province, there have been 2,400 cases this year, up 163 per cent, with two deaths.
In Dong Thap, the number rose by 71 per cent in the first six months to more than 1,350 cases again with two people dying.
As of September 16, the south-eastern province of Binh Phuoc had reported more than 6,000 cases and three deaths.
The south central province of Binh Thuan is one of 15 worst affected localities, according to its Preventive Medicine Centre.
The number has risen five-fold this year to nearly 2,900, and there has been one death.
Nguyen Tri Dung, director of the HCM City Centre for Disease Control and Prevention, said the city has stepped up efforts to fight the disease with a focus on spraying chemicals to kill mosquitoes, eliminating potential habitats and raising public awareness of dengue prevention and control.
But spraying chemicals is recommended only in emergency situations for rapid destruction of the adult vector population, according to the centre.
Dengue prevention and control is the responsibility of individuals, it said.
The key is to eliminate unnecessary container habitats that collect water in households and workplaces.
VNS