Denmark has decided to donate hundreds of paintings to healthcare facilities in Vietnam.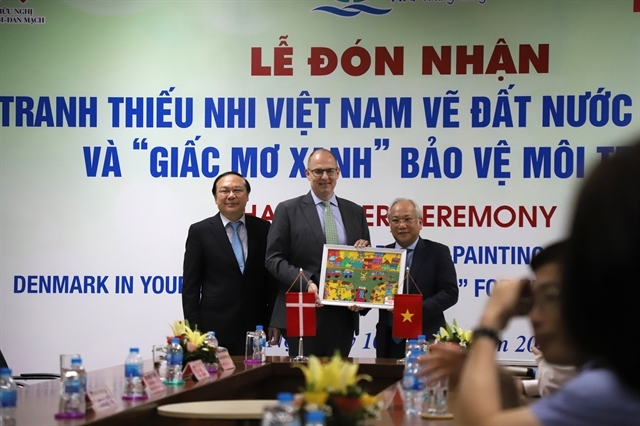 Danish Ambassador Kim Hojlund Christensen (centre) donates the paintings for leaders of hospitals.
The paintings would create positive energy for little patients, Lê Thanh Hải, director of the Việt Nam National Children's Hospital, said at a ceremony with the Danish Embassy and Việt Nam – Denmark Friendship Association (VIDAFA) yesterday in Hà Nội.
Entries from the Denmark in Your Eyes 2018 Art Contest will be handed to the Việt Nam National Children's Hospital, the Việt Nam-Germany Friendship Hospital and the National Hospital of Traditional Medicine.
"Research in Denmark has shown that exposure to lively visual arts can bolster spirits, reduce stress and calm anxieties for family members while contributing beneficially to the patient's recovery," said Danish Ambassador Kim Hojlund Christensen.
"It is my sincere hope the vivid artworks donated to Vietnamese hospitals will add a much-needed distraction to the young patients who come here for life-saving treatment," he said.
Director Hải said when being hospitalised, both children and their families enter an especially vulnerable and stressful period.
"The paintings are expected to transform the hospital's clinical areas into warm, hopeful and healing spaces for both patients and healthcare providers," he said.
Minister of Natural Resources and Environment, Chairman of VIDAFA, Trần Hồng Hà also expressed his belief in the difference the paintings would make to the children and their families.
"These paintings offer children's exploration's of beautiful green dreams in which people, animals and nature live in harmony. These artworks radiate great imagination and inspiration. I believe they will have a very positive impact on the healing process of the patients undergoing treatment here and their families", said Hà. — VNS