As COVID-19 continues to disrupt livelihoods, global value chains, and trust in institutions around the world, it is not unfolding in a vacuum.
 Vietnam, while heralded for its successful containment of the pandemic, is also heavily impacted by simultaneous and interconnected challenges.
COVID-19 has fast-tracked the need for alternatives to physical interaction and pivoting from "business as usual". At the same time, the transition to the Fourth Industrial Revolution is accelerating at an unprecedented scale with the forward march of technology and next wave of digital technologies, such as AI, blockchain, and the Internet of Things leading to changing patterns of production, consumption, and employment.
How these rapidly-changing and complex trends are managed will determine whether the acceleration of new technologies will deepen the digital divide leaving many behind, or whether they transform Vietnam into Asia's next high-performing economy that raises the living standards of all of Vietnam's citizens over the coming decade.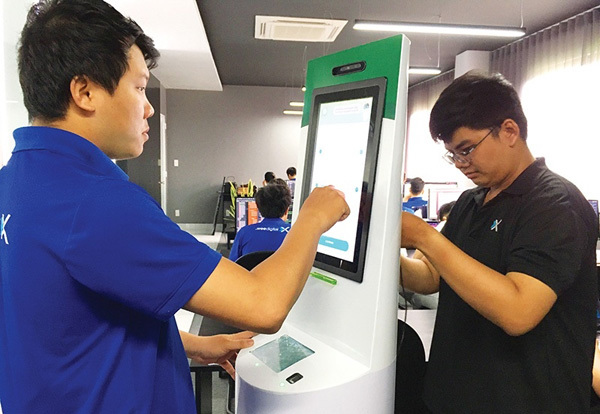 Experimentation and innovation are both vital for Vietnam to boost growth of a digital ecosystem. Photo: VIR
Critical to managing this process is understanding that the Fourth Industrial Revolution is not only about new technologies and smarter machines. Fundamentally it requires reconfiguring human-machine relationships and our very notion of human development in order to achieve our shared higher goals.
New forms of interaction between humans and machines require that we explore new forms of agency and rethink current institutional systems. In the fast-changing volatile, uncertain, complex, and ambiguous context we live in, it is important to avoid the pitfalls of "used futures" through new forms of participatory governance that are anticipatory, agile, and adaptive, that acknowledge the interconnections of strategic risks, and leave no one behind.
The Vietnamese government at the highest levels has committed to digital transformation and developing the e-government ecosystem to modernise the administration and bring more benefits to citizens and enterprises. In June, the prime minister approved the National Digital Transformation Roadmap to 2025, focusing on the three pillars of e-government, e-economy, and e-society.
This includes ambitious targets, including making 80 per cent of all public services available online by 2025, developing a telehealth platform for medical examination and treatment covering 100 per cent of health facilities, and piloting the "doctor for every family" concept to bring healthcare services to people throughout the country.
However, although Vietnam has a relatively good ICT infrastructure including a wide internet coverage providing a plethora of opportunities, it remains at the beginning of its digital transformation journey. 
Digital literacy for all 
The nationwide Public Administration Performance Index administered by the United Nations Development Programme (UNDP) in 2019 found that citizen adoption of key online services on provincial portals was less than 4 per cent. Between 2014 and 2020, Vietnam moved from 99th to 86th among the 193 UN member countries in the E-Government Development Index. While there has been some improvement, many e-services procedures remain complicated, only partially digitised with lack of outreach, and therefore understanding among citizens of the available services and how to access them is limited.
While most Vietnamese people have internet and mobile phone access, less than 50 per cent of adults have a bank account, with lower rates prevailing in rural areas, among micro-, small-, and medium-sized enterprises, people with disability, the elderly, the unemployed, and people with low income and low education levels. Women face additional barriers to initial access and affordability of digital services and ICT.
Therefore, a new gap in advanced human capabilities is increasing in Vietnam. Notably, digital literacy, which once was considered a luxury, is now a key competency in order to compete in the knowledge economy, belong in the digitised society, and access public services as Industry 4.0 accelerates.
Therefore, it is critical to take an inclusive ecosystem approach that simultaneously: (i) reconfigures institutional structures to enable digital ecosystems; (ii) strengthens e-commerce and e-payment systems; (iii) ensures that digital public services are designed to meet the needs of the people; and (iv) provides digital literacy skills training for citizens to facilitate participation.
Citizen participation is key 
The full potential of digital services and smart cities will only be realised if the development process follows a human-centric design that enables all citizens to participate in planning, designing, and co-creating services. If people are not contributing to or benefiting from the use of platforms what good do digital services bring?
To address this gap, the UNDP is working in the central province of Thua Thien-Hue to support the digital transformation of public administration through citizen-centric provincial-level public service portals that facilitate easier access of people to public services.
In Bac Kan and Dak Nong provinces, the UNDP initiative has enabled ethnic minority communities to extend market reach through digital platforms, and e-payment services. The UNDP has also supported Nam Dinh, Nghe An, Cao Bang, Quang Ninh and Vinh Phuc provinces in fast-tracking social protection payments and testing digitalised solutions for speeding digital payments via e-banking and non-banking e-payment services under the government's financial support package for poor people and businesses affected by the COVID-19 pandemic.
These efforts have helped reduce the risk of disease transmission as well as the travelling and waiting time at community centres or post offices to receive the cash transfer. The UNDP is now working with the Ministry of Labour, Invalids and Social Affairs to develop a digitised nationwide integrated social protection database. In the central city of Danang, the UNDP is working with the municipal People's Committee to establish a city lab that is introducing human-centred design and mapping solutions to tackle pressing urban issues.
Through these and other initiatives, the UNDP is working with partners to lay the foundation for speeding up digital transformation in service delivery, management of social protection systems, and stimulating e-commerce for people most left behind in Vietnam.
To boost the growth of an inclusive digital ecosystem, the government has a key role in enabling experimentation and innovation with contribution from people and businesses. Cities provide a fertile testing ground for such governance experimentation that can lead the way in imagining and co-creating green, inclusive futures that are fundamental to achieving the Sustainable Development Goals by 2030. VIR
Google expansion in most aspects has motivated the digital transformation in Vietnam, inspiring developers and regulators alike to take a slice from the huge funds flowing out of the country and into the wallet of the tech giant.

Vietnam aims to become a digital society by 2030. The country has been praised internationally for taking the lead in digital transformation in the education sector, especially after the COVID-19 outbreak.