DNA testing might be common on English TV programmes like The Jeremy Kyle Show, but in Vietnam, it seems its livestock queuing up to find out if the baby is theirs.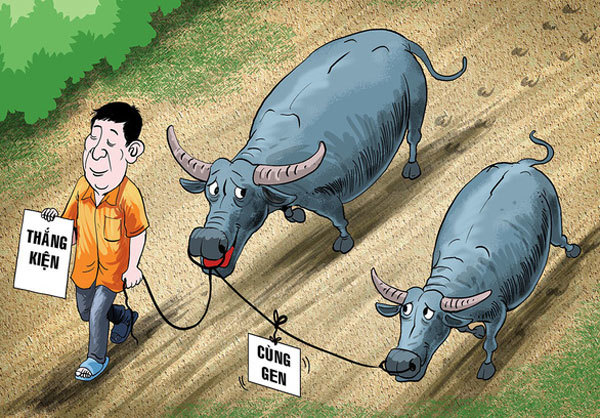 DNA test was believable evidence in conflict related to missing buffaloes. — Illustration of tuoitre.vn
At least that's how a dispute between the owners of some buffaloes in the northern mountainous province of Dien Bien was sorted out.
The area's livestock owners often allow their livestock to wander from place to place, leading to regular disputes over ownership.
Luong Van Hoa, who lives in Thanh Luong Commune, Dien Bien District, sent a petition to the provincial People's Court saying one of his buffalo was missing. The buffalo has a scar on his left ear.
Then Hoa saw Quang Van To owned a buffalo with the same traits. Hoa claimed it was his missing buffalo. Hoa asked Tơ to give it back, but To refused.
The provincial People's Court decided to take DNA test the buffalo. The test was conducted by the provincial Institute of Breeding.
The test showed the missing buffalo had a blood-relationship with a buffalo in Hoa's flock.
To lost the case so had to pay all costs, including for the DNA test.
Pham Van Nam, tribunal president of the Dien Bien People's Court, told Tuổi trẻ (Youth) newspaper that DNA testing had been considered suitable evidence in such cases since 2014.
However, expenses for the test were quite high, more than VND7 million (US$300), some 20-30 per cent of the buffalo's value.
Thus people only brought such suits if both sides were convinced they owned the buffalo, said Nam.

DNA tests have long been used by unscrupulous reality TV shows to determine the parentage of children but cows? Now that's udderly ridiculous.
VNS